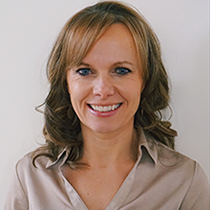 Dr. Jennifer Bestard is the Zone Medical Director for Central Zone. Dr. Bestard is accountable for all Alberta Health Services medical staff-related matters, including the application of AHS Medical Staff Bylaws.
Dr. Bestard was born and raised in London, Ontario on a dairy farm. After completing high school, she began her journey to a successful career in medicine. She obtained a Master's degree from the University of Toronto, MD degree from McMaster University, followed by post-graduate training in Neurology at the University of Alberta and Headache and Neuropathic pain fellowships from the University of Calgary, before moving to Red Deer in 2009.
Since her move to Red Deer, Dr. Bestard has served in a variety of leadership roles in the Central Zone, including Associate Zone Medical Director, Red Deer Metro and Facility Medical Director, Red Deer Regional Hospital and as the Zone Clinical Section Head for Neurology.
Together with other Zone leaders, Dr. Bestard was instrumental in developing zone capacity protocols and building relationships between rural and regional centers. She continues to manage her private practice as a Neurologist, and delivers headache seminars or lectures to patients and physicians, while working in the hospital in a variety of Neurology clinics and teaching resident physicians. She has Clinical Appointments as a Clinical Academic Colleague at both the University of Calgary and University of Alberta.
Dr. Bestard considers herself a life-long learner. She is a wife and the mother of three beautiful little girls. She enjoys a lot of fitness activities, including running, and also enjoys travelling with her family.