Vision, Mission, Values & Strategies

Our Vision
Healthy Albertans. Healthy Communities. Together.
Our Mission
To provide a patient-focused, quality health system that is accessible and sustainable for all Albertans.
Our Values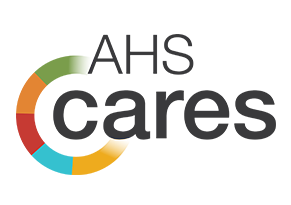 Our five values – compassion, accountability, respect, excellence and safety – are at the heart of everything that we do. They inspire, empower and guide how we work together with patients, clients, families and each other.
AHS Competencies
Our AHS competencies translate our values into actions and give us clarity as to what living our values looks like.
Our Four Foundational Strategies
Following extensive consultations with key stakeholders — including patients, clients and their families — Alberta Health Services developed four foundational strategies. Our foundational strategies will guide efforts to sustain safe, high-quality health-care delivery for the benefit of all Albertans.
Our Strategic Direction
The 2017-2020 Health Plan and Business Plan is the critical foundation for all activity within AHS.
The plan guides us and outlines our operational goals over the next three years, which are supported by three strategic directions:
Bringing Appropriate Care to Community
Partnering for Better Health Outcomes
Achieving Health System Sustainability
All three strategies work together and are equally important. As well, every decision we make is based on the following three principles:
We are working to ensure that Albertans are getting the right care, in the right place, at the right time no matter where they live in the province.
We are working to simplify the health system by looking at care delivery through the eyes of Albertans and their families.
We are working to make the system more efficient through local and site-based decision-making, while reducing bureaucracy.
We are spending health care dollars on priority areas. Specifically, we are focusing on community-based care, reducing wait times for high priority procedures and treatments and taking better care of the vulnerable.
In the end, this plan is about delivering better services to Albertans by forming partnerships, being more effective with our resources, and investing in what will make a difference to Albertans now and in the future.
Professional Practice in Action (PPA)
Professional Practice in Action (PPA) outlines how AHS supports professional practice. It illustrates the expectation of how people work at AHS so they can provide patient-focused, quality care to Albertans. The PPA is part of Our People Strategy and supports the Patient First Strategy.
Accreditation

Alberta Health Services (AHS) participates in the accreditation of health services to help our organization ensure the delivery of safe quality healthcare. As a component of continuous quality improvement, accreditation compares our health services with established national standards of excellence to help us identify what we're doing well and how we can further improve. The AHS Accreditation Department facilitates the accreditation processes, engages staff and organizes on-site survey visits with Accreditation Canada.
Accreditation Canada accredits the majority of AHS services, with the College of Physicians and Surgeons of Alberta accrediting Laboratory and Diagnostic Imaging Services.
AHS has started a new accreditation cycle (2019-2022) in which there will be two Accreditation Canada survey visits per year (Spring and Fall).
Palliative and End of Life Care
The Palliative and End of Life Care (PEOLC) Provincial Framework was developed with the intention of improving patient care to all Albertans regardless of the type of illness or geographic location in which one resides.