Last updated June 5, 2023
The outbreak of Ebola declared in the African country of Uganda has ended.
The risk of Ebola exposure in Alberta, and all of Canada, is low. There are no suspected or confirmed cases of Ebola in Canada.
Ebola is officially known as Ebola Virus Disease (EVD) and is also called Viral Hemorrhagic Fever.
Contact a Zone Medical Officer of Health
North Zone During Office Hours: 1-855-513-7530 / After Hours: 1-800-732-8981
Edmonton Zone: 780-433-3940
Central Zone: 403-356-6430
Calgary Zone: 403-264-5615
South Zone: 403-388-6111
---
Latest News
---
Quick Reference Links
Information for Albertans
Latest Ebola information for Albertans.
Poster for Staff-only Areas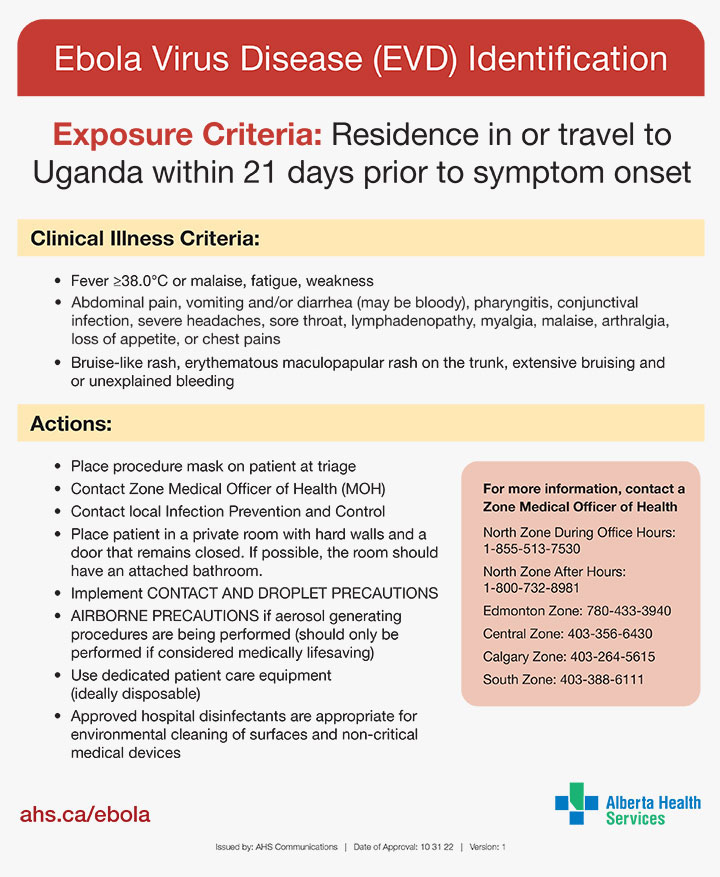 For everything table including keywords visit insite.ahs.ca/shortcut or https://insite.albertahealthservices.ca/web/Page24596.aspx
ONLY add assets for /vhf/ - do NOT put in legacy folders
---
Ebola Resources for AHS Staff & Health Professionals
To use the sortable / searchable table below, you may use a drop-down menu to sort the results or use the search bar to type in a keyword. See instructions.
The "Date Posted" field in the table reflects the last date posted.
For everything table including keywords visit insite.ahs.ca/shortcut or https://insite.albertahealthservices.ca/web/Page24596.aspx