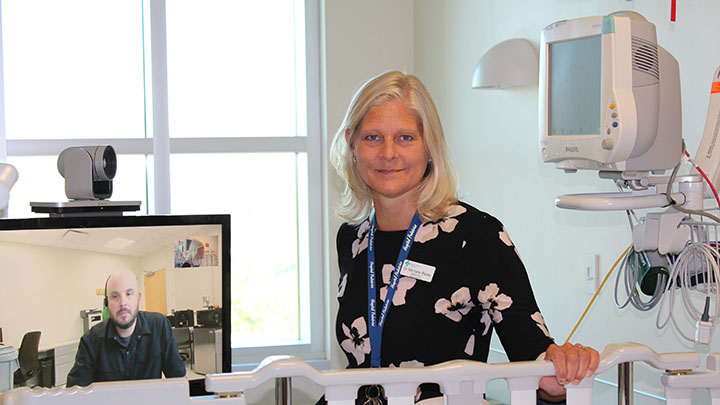 Enhanced telehealth consultation service keeps children closer to home, parents in loop
CALGARY – Young patients in hospitals outside Calgary and Edmonton will soon be able to receive specialized care from multidisciplinary teams, thanks to a new virtual consultation service.
When it launches in early 2019, Telehealth Rounds and Consultation (TRAC) will connect children in smaller regional hospitals with pediatric specialists in larger centres using virtual technology. By providing audio and visual connection between sites, patients and their families can return to the regional hospital closest to their home while still having access to specialist physicians and Allied Health services.
TRAC is the one of the first programs in Canada to use virtual health technologies for inpatient pediatrics and aims to help improve the quality and safety of care delivered to pediatric patients in rural and remote areas.
"If a child is admitted to a regional health centre, such as the Medicine Hat Regional Hospital, there aren't the same number of pediatric specialists as in a tertiary care centre, like the Alberta Children's Hospital," says Dr. Michelle Bailey, Quality and Safety Lead of Hospital Pediatrics at the Alberta Children's Hospital in Calgary and part of the TRAC team.
"By working with the family and the regional team to treat the child closer to their home, it decreases the travel stress on the family and can increase access to specialist care inpatient beds which are often in short supply."
TRAC is a part of the AHS Virtual Health program, which aims to connect patients to care providers using virtual technologies such as videoconferencing or mobile devices, wherever they are in the province.
When the pilot project launches in 2019, TRAC will aim to increase the involvement of patients in the video conferencing process. The technology will allow the teams of specialists to virtually move through the regional and tertiary care centres and work with multiple patients each day, just like the normal rounds that care teams would provide if the patients were in the same room.
"Normally with Telehealth, the team of specialists would get together once often in a conference room and only sometimes would the patient's family be present," Bailey explains. "Through TRAC, these meetings become daily and the family can be involved the whole way through."
Catherine Keenan, Executive Director of Medical Affairs South Sector, oversees many of the developments with the Virtual Health program. She's particularly excited for what TRAC is proposing as it's the first to focus on pushing the technology into new areas that could easily transition to treating adult and senior patients in the near future.
"This is the natural evolution of this technology," says Keenan. "All of the technology needed already exists and this is the logical next step on how to use it. We're taking established technology and focusing on a different place in the care continuum, making quality healthcare available to all Albertans no matter where in the province they may call home."