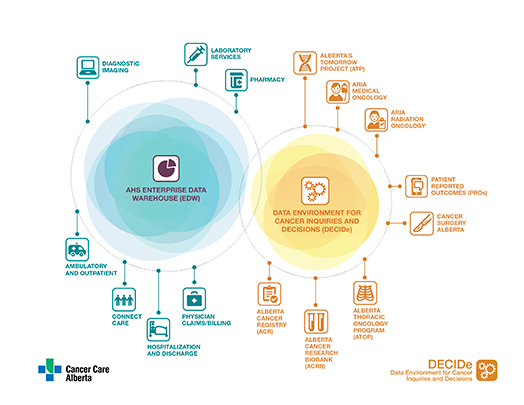 Deciphering Critical Cancer Data
Surveillance & Reporting (S&R) analysts are experts at tracking and making sense of extensive clinical, operational, and patient outcome data related to cancer. Thanks to more than 130 years of collective expertise, these data sleuths assist in the interpretation of cancer rates, outcomes for leading treatment, trends in patient visits to hospitals, and more.
Left: Here is the broad range of health data to be linked in the future.
Surveillance & Reporting analysts, epidemiologists and statisticians work with researchers within and outside of Alberta to navigate an ever-expanding sea of complex data, and extract valuable insights from their findings. Whether conducting research for Cancer Care Alberta (CCA), or facilitating that of external scientists and government health officials, S&R's advanced analytics team provides the solid evidence and collaborative interpretation required to support better cancer prevention, diagnosis, and treatment.
Researchers with data inquiries should contact acb.cancerdata@ahs.ca.
For more information, or to request detailed cancer statistics for Alberta, visit Surveillance & Reporting.