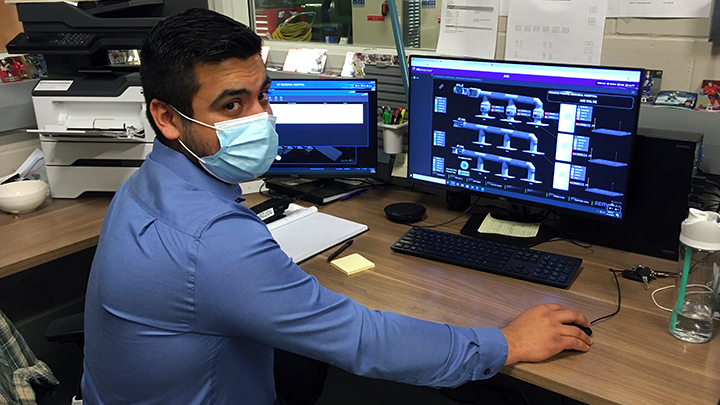 Brendan Martins of Facilities, Maintenance & Engineering (FM&E) at Grande Prairie Regional Hospital demonstrates how to activate the "smudge button" at the new hospital. Photo by Sara Blake.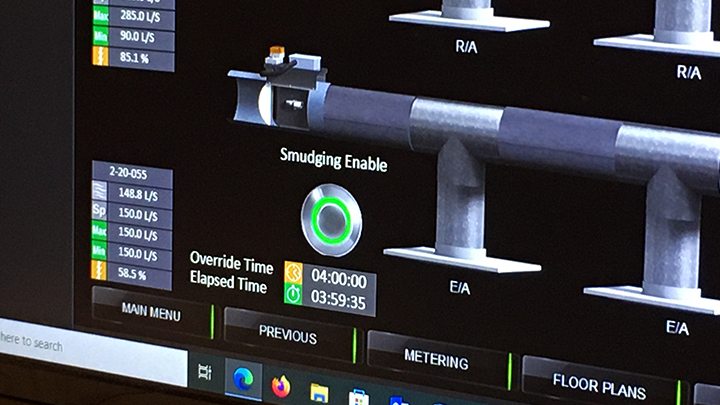 The "smudge button" reroutes air in the hospital's HVAC system to ventilate air from a specific patient room outdoors. Photo by Sara Blake.
Grande Prairie team devises custom ventilation for in-hospital smudging
Story by Shelley Boettcher | Photos by Sara Blake
GRANDE PRAIRIE — Smudging is now more accessible to patients and families at Grande Prairie Regional Hospital (GPRH) thanks to a partnership between Indigenous community members, local Alberta Health Services (AHS) leadership and staff.
The traditional Indigenous practice of smudging involves burning sacred plants, such as sage or sweetgrass, accompanied by prayer. This can play an important role in the healing journey of an Indigenous patient.
Candice Edey, AHS senior operating officer for Grande Prairie, says the topic was initially brought up through the hospital's Indigenous Engagement Committee during the commissioning phase of the new hospital.
"We've been working with the committee since 2019 on different initiatives to help our Indigenous patients and families feel safe and welcome here at GPRH," says Edey.
"When better access to smudging was suggested, our Facilities Maintenance & Engineering team engaged with Indigenous Health, committee members and local Elders to work on creating this new process."
When patients and families at the hospital request an opportunity to smudge, maintenance staff activate what's known as the "smudge button" a unique part of the hospital's computerized building-management system, which allows for air from the room to be ventilated directly outdoors rather than recirculating through the building.
This process typically takes under 20 minutes. When smudging is complete, the hospital's on-site Indigenous Health Liaison directs maintenance crews to shift ventilation back to normal operations.
"It's about providing better support to our Indigenous communities which, in turn, supports the AHS patient-first strategy," says Brendan Martins, lead hand with Facilities Maintenance & Engineering at the hospital, and a member of the Carry the Kettle Nakoda Nation from Saskatchewan.
"The Elders involved were impressed we were working to make this possible. It's been an extremely positive experience, which wouldn't have been possible without support from the management team here."
Grande Prairie Regional Hospital is the first AHS site to accommodate smudging in this way. The new system has been used more than 200 times since it became operational in 2022.
Smudging and pipe ceremonies create minimal smoke and are listed as exceptions in existing government legislation and AHS policies with regards to open flame and smoke. AHS encourages smudging for all patients who request it.
Shannon Dunfield, manager of Indigenous Health and Diversity in the AHS North Zone, says the streamlined service has improved the hospital experience for many Indigenous patients.
"Offering the ability to smudge is a huge step towards reconciliation," she adds. "This helps our people feel welcome, comforted and culturally safe when they come to the hospital."
---
Healthcare organizations such as AHS have been called upon in the Truth and Reconciliation Commission's Calls to Action to incorporate traditional healing practices for Indigenous patients and families. AHS is working to provide a consistent approach to accommodating ceremonies so that, no matter where in the province patients call home, they can expect the same standard of care.
For more information on how to request a smudge, patients or loved ones can speak with their care providers or Indigenous Health Liaisons at their site.
— with files from Sara Blake