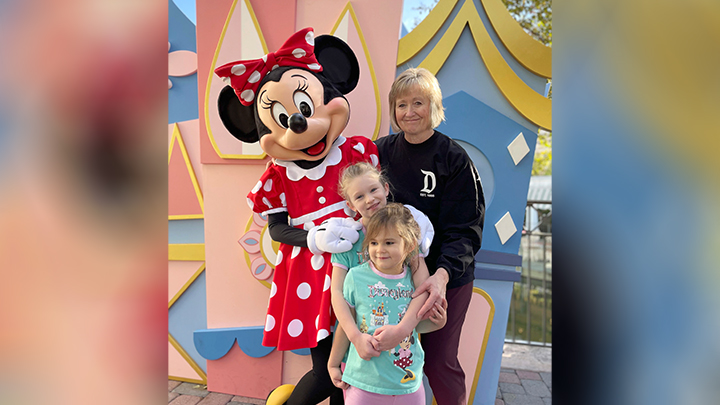 Just two months after having hip-replacement surgery in Westlock, and going home the same day, Mona Koberstein travelled to Disneyland with her family. Here she makes a precious memory with her granddaughters Natalie and Rachel, along with the famous Minnie Mouse. Photo supplied.
Westlock first North Zone community to offer outpatient hip and knee replacements
Story by Gayleen Froese
WESTLOCK — Hip replacements have long been known as life-changing surgeries. Now, in one northern Alberta community, these patients have the option to return to their changed lives on the same day they get their new hip.
Outpatient hip-replacement surgery — also known as day-zero arthroplasty — has been available at Westlock Healthcare Centre since last August. Some patients who would typically stay one or more nights in hospital now have the opportunity to return home to experience a faster, more comfortable recovery.
Dr. Jan Lategan, who performed the first day-zero hip arthroplasties here, says this approach to joint replacement can be "very successful" for the right patients, particularly for those receiving the less-invasive hip replacement surgeries.
"Patients need to be motivated for rehabilitation and recovery," he adds. "Having a good support system is another important consideration."
Mona Koberstein, the second patient to receive a day-zero hip replacement in Westlock, had previously undergone an inpatient hip replacement. "Absolutely amazing" is how she describes the speed of recovery from her day-zero procedure. "It was better than the first. I was tottering around on my walker when I got home."
Less than two months later, Koberstein travelled to Disneyland with her family, including two active grandchildren. "That can be exhausting for anyone," she says. "But I had zero issues. I was able to walk around pain-free."
Does she have any regrets about the procedure? "I think back and wonder — why did I wait so long?" She's quick to add, however, that the daily exercises recommended by her health care team played an important role in her recovery.
Day-zero arthroplasty also benefits patients by eliminating the need for inpatient beds at the facility ¬¬— a requirement that can lead to cancellations when there are bed shortages. Fewer cancellations mean shorter wait times for surgeries, and allow more patients to return sooner to active living. As of March, five day-zero hip replacement and one day-zero knee replacement have been performed in Westlock.
Given the benefits to patients, Dr. Lategan looks forward to seeing more day-zero arthroplasties at Westlock Healthcare Centre. "In time, I would like to see us perform one or two per week."