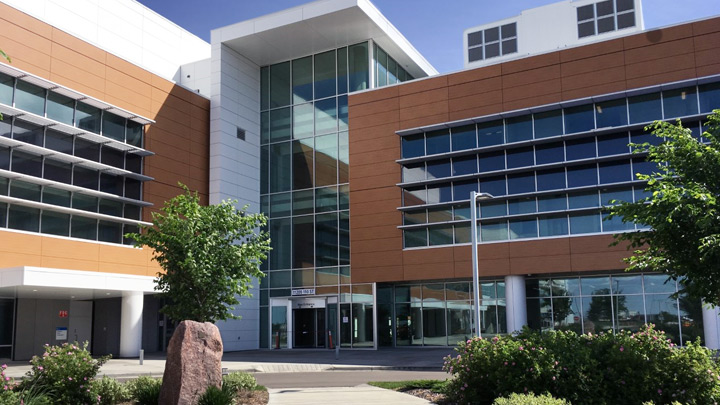 Albertans requiring mental health care at Grande Prairie Regional Hospital are receiving better care thanks to Connect Care, AHS' electronic records system, which details their story and helps their medical team create appropriate care plans. Photo supplied.
Electronic record makes patient's story readily available to care team
Story by Krista Fast
GRANDE PRAIRIE — Patients experiencing a mental health crisis are being met by staff who have more tools and resources to support them in their care — thanks to Connect Care.
"Staff are meeting the patient with a better background of that person, so we can make a more appropriate treatment plan specifically for them," says Nicola Weber, clinical nurse educator for North Zone Addiction and Mental Health (AMH) Urban. "Connect Care has made things more efficient for us."
Moving to an electronic system for charting means that more than one member of a patient's care team can view the chart at the same time, which helps to prevent double-charting and provides more time for patient care.
"When we have other providers join our treatment team, they can read the notes and immediately initiate patient contact because they have that full background," says Weber, who's based at Grande Prairie Regional Hospital. "We can see what the previous person has done so you can build on that instead of having to revisit it with the patient."
Notes entered by other team members — including the crisis team if they are present to support the patient getting access to care — can be seen immediately by all providers to develop and adapt the treatment plan.
Connect Care comes with a suite of AMH specific tools, like the mental-status exam, that includes reference guides so staff can quickly see the specific definitions for the exam.
"It allows the knowledge check so staff can make sure they're hitting the right aspects of the exam to document properly," says Weber. "It's really helpful for staff to have right in front of them and has made charting faster."
Having the patient's previous admission information allows the care team to quickly check to see if their mental health status is consistent or getting better or worse.