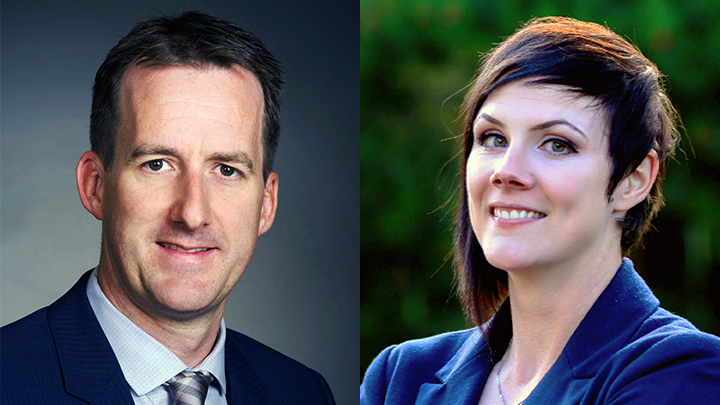 Principal investigator Michael Stickland, PhD, is a professor of medicine at the University of Alberta and scientific director of the Respiratory Health Section of AHS' Medicine Strategic Clinical Network. Chantal Atwood, PhD, leads methodology and executive reporting for the AHS Data and Analytics team. Atwood is also the lead author of the COPD study, which was recently published in the prestigious CHEST Journal. Photo supplied.
New transition checklist improves patient outcomes, saves healthcare dollars
Story by Nathan Downey
The way we treat patients living with chronic obstructive pulmonary disease (COPD) is changing for the better, thanks to a group of researchers and clinicians within Alberta Health Services (AHS).
A degenerative lung condition, COPD is the third-leading cause of death worldwide. Patients with COPD have a high likelihood of being admitted to hospital and revisiting the hospital in the month following discharge. AHS researchers set out to investigate ways to reduce the likelihood of a COPD patient being re-admitted after discharge from hospital following an acute episode.
"What we did was create a transition bundle, a series of clinical events that should occur at the point of discharge to help facilitate the patient's return to the community," says principal investigator Michael Stickland, a professor of medicine at the University of Alberta and scientific director of the Respiratory Health Section of AHS' Medicine Strategic Clinical Network.
Applied by clinicians when COPD patients leave hospital, the transition bundle is a standardized checklist of seven individual care elements that aim to prevent their re-admission. These include demonstrating proper inhaler technique and referring patients to pulmonary rehabilitation, as well as providing counseling for smoking cessation.
"Airlines have checklists and, when followed, there are very few crashes and fatal accidents. We wanted to replicate that in treating COPD," adds lead author Chantal Atwood, team lead for Methodology and Executive Reporting within the AHS Data and Analytics office.
The clinical trial determined that patients who receive the transition bundle are 83 per cent less likely to be re-admitted after seven days and 26 per cent less likely to be re-admitted within 30 days of discharge.
Atwood says these results save healthcare dollars while providing better outcomes for patients living with COPD. "If you can take care of yourself in your home with community resources, pulmonary rehabilitation, visits to your primary care physician and the pharmacy — that's a huge win for the patient and the healthcare system," she adds.
Based on these promising results, AHS has already incorporated the transition bundle provincewide into its COPD standard of care. It also forms part of the new AHS Acute Care Bundle Improvement initiative.
Stickland says this clinical trial is a perfect example of what's possible when academics and frontline clinicians collaborate to improve the way we treat major health conditions.
"We gathered the best evidence, and we reviewed the literature," he adds. "We brought patients, clinicians, and researchers together. We figured out what we thought was the best plan — and it was shown to be effective."
The results of the clinical trial were published earlier this year in the CHEST Journal, one of the world's leading respiratory and internal medicine publications.