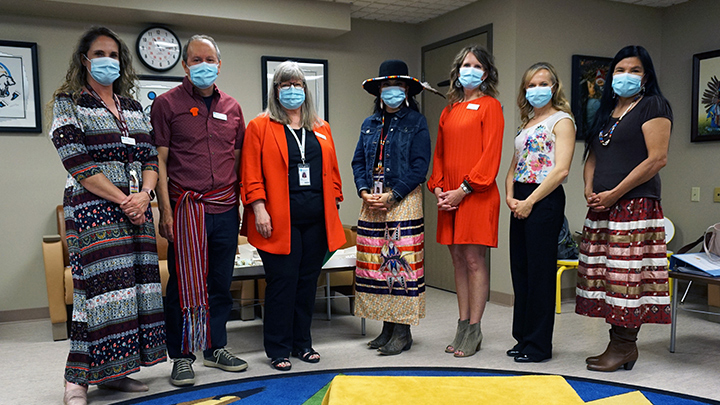 Members of AHS leadership and Indigenous Wellness Core assembled for the grand opening of the Wetaskiwin Hospital and Care Centre's new Indigenous Healing Room. Gathered, from left, are: Lisa Barrett, Marty Landrie, Janice Stewart, Brenda Laboucan, Andrea Thain Liptak, Dr. Jennifer Bestard and Tracy Lee. Photo by Tracy Kennedy.
New gathering space offers comforts of home
Story & photo by Tracy Kennedy
WETASKIWIN — A dedicated room at Wetaskiwin Hospital and Care Centre now provides a quiet atmosphere where Indigenous patients, families and Elders can gather to heal in a culturally appropriate space.
Members of the community came together to celebrate the grand opening of 'Onanatawihowewin Kamik' — the new Indigenous Healing Room — on National Indigenous Peoples Day this past June 21.
The group assembled around a colorful, circular rug emblazoned with the Seven Grandfather Teachings of Love, Respect, Courage, Honesty, Wisdom, Humility and Truth. Samson Cree Nation Elder George Saddleback blessed the room with a prayer and an honour song.
Tracy Lee, senior advisor for Indigenous Wellness Core in Central Zone, says she and director Lisa Barrett "envisioned this space as a home in the hospital for our local Indigenous people.
"As well, we recognize that hospital staff may want to increase their understanding of Indigenous people, and this room creates space to facilitate opportunities for hospital staff to come with their questions."
For Marty Landrie, executive director with Alberta Health Services' (AHS) Indigenous Wellness Core, it's a place for people to let down their guard, to help them heal.
"When you come into an institution that takes you away from your home, you need to find a way to get that connection to allow you to feel comfortable —and a space like this creates that comfort of home," he says. "It's like when people can smell the sweetgrass, a pot of coffee, freshly-baked bread."
Lee says the new space, conveniently located by the main entrance to encourage access, affords more room for Indigenous families.
"We recognize the unique kinship systems of Indigenous people — their extended families and culturally adopted families are important supports to healing," she says.
Lee also points out the development of this room is a response to one of the Truth and Reconciliation Commission's (TRC) Calls to Action related to health:
"We call upon those who can effect change within the Canadian healthcare system to recognize the value of Aboriginal healing practices and use them in the treatment of Aboriginal patients in collaboration with Aboriginal healers and Elders were requested by Aboriginal patients."
The opening event was attended by Louis Bull Tribe councillor Clyde Roasting, and Samson Cree Nation councilors Louise Omeasoo and Katherine Swampy, who each shared that this is a space to feel included — and a good step in the right direction towards reconciliation.
AHS recognizes that not all Indigenous patients have always felt a sense of belonging in their healthcare facilities, and spaces like the new Healing Room are an important part of working to create that.
"We know that some of our patients may have had less than positive experiences within the healthcare system, which has resulted in health disparities for Indigenous people," says Janice Stewart, chief zone officer, AHS Central Zone. "However, we believe that in learning from one another, and working together, we can achieve lasting, positive changes."
Indigenous patients, families and community members — along with physicians and staff, and members of the Wetaskiwin Health Foundation — worked together to nurture the Healing Room from concept to fruition.
The foundation contributed $75,000 toward the project. Its executive director John Strong calls it a gift from the community, given with love.
"We hope that the resources provided here bring comfort, healing and peace to all that use the space, and that you'll find the support of the community as you do so," says Strong.
"People want to be able to talk about their health experiences and struggles in sharing circles — which are healing — and find encouragement in their shared experience and in each other."