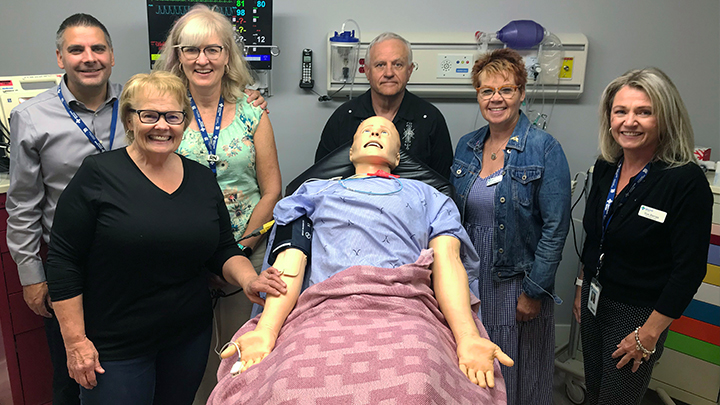 The Town of Sundre now has its own eSIM training lab. Some of the people who made it happen include: Dan Duperron (eSIM), left, Audrey McKenzie (AHS clinical educator), Nadine Terpstra (eSIM), Gerald Ingeveld (Sundre Hospital Futures) and Gerry Greschner (David Thompson Health Advisory Council and Sundre Hospital Futures). Photo by Paul Rotzinger.
Sundre eSIM teaches real-life scenarios to AHS, town staff and community
Story by Tracy Kennedy | Photo by Paul Rotzinger
SUNDRE — A newly-opened eSIM training lab in Sundre is the first of its kind to be developed through a groundbreaking model of collaboration among health foundation, healthcare and community partners.
Sundre Hospital Futures, Alberta Health Services (AHS) and the Town of Sundre came together to establish Alberta's 15th simulation program — known as eSIM (Educate, Simulate, Innovate, Motivate) — which immerses learners in "real-world" clinical events where they can practise care and acquire skills without any risk of patient harm.
The Sundre Hospital Futures Committee, the community's health foundation, knew establishing a training ground in town was an opportunity well worth the effort.
Committee chair Gerald Ingeveld says it's the beginning of a dream come true to bring rural healthcare education to the community.
"Not only do our doctors and nurses now have the ability to train and keep their skills up (locally), but we're able to open this facility up so that firefighters, search and rescue, Town employees and volunteers can come and get their training as well," he adds. "We're a remote community — so we want to be prepared."
Sundre Hospital Futures facilitated grants and donations to renovate the 1,200-sq.-ft. lab space, which includes a mock emergency room, control room, as well as a classroom with videoconferencing capability.
Next to the town's fire hall, the new lab is located outside of a hospital environment for the first time.
It was this former Town of Sundre office space, adjacent to the fire department, that spurred the dream into reality. The Town donated the space for the lab, confident it would benefit the community and surrounding area.
Mayor Richard Warnock says the hospital and its staff are a blessing they are always ready to support.
"Sundre has twice the population of seniors as other small towns our size, so therefore healthcare is important," Warnock says.
"We also get amazing numbers of tourists. Thousands of people go out to the West Country on a weekend, and we need to supply that emergency healthcare, as well as healthcare for our residents."
Safe, quality healthcare for patients is the end goal for eSIM.
"We believe that patient safety comes with having healthcare practitioners who are confident and competent in their skills," says Sue Barnes, simulation lead south, AHS eSIM program.
She adds that the unique partnership with the community ultimately helps with recruitment and retention.
"Our lab has people training closer to home and by doing so, we have people who are going to want to stay here."