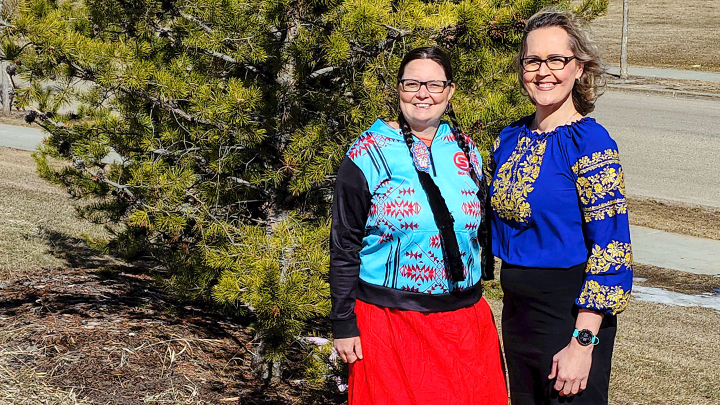 Longtime collaborators Nadine McRee, left, director of the Indigenous Wellness Core, and Marni Panas, program manager for Diversity and Inclusion, celebrate AHS' latest national award by dressing to reflect their Indigenous and Ukrainian heritage, respectively.
Canadian College of Health Leaders bestows national honours for second time
Story by Gregory Kennedy
The "effective and sustained efforts" of Alberta Health Services (AHS) to build a healthcare system where all feel welcome and respected have brought home the prestigious 2022 Excellence in Diversity & Inclusion Award from the Canadian College of Health Leaders (CCHL).
According to the CCHL, their national award celebrates AHS "as a forward-thinking healthcare organization that's demonstrated leadership in creating and promoting diversity and inclusion to improve the environment for employees, and to better service patients and the community." It's a repeat win for AHS, which also led the field in 2019.
For almost two decades, the CCHL's National Awards Program has been showcasing the success of exemplary individuals and teams, encouraging knowledge exchange, and celebrating excellence while stimulating replication of leading practices across the health industry.
"It's with great pride that I congratulate the people and teams across the breadth of our organization who have embraced diversity and inclusion," says Sean Chilton, Vice-President of People, Health Professions and Information Technology for AHS.
"One of our priorities is building a healthcare system that all people feel comfortable and welcome to access, where they know they'll always be treated with dignity and respect."
Marni Panas, program manager for Diversity and Inclusion, is one of AHS' strongest diversity advocates and an inspiration for positive change.
"Today's recognition is larger than any one team or individual — this is a recognition of many people, many teams and the emotional labour of so many over the years," she says. "We're the only organization to win this award twice, which I believe reflects our ongoing growth and maturity at Alberta Health Services.
"When it comes to diversity and inclusion, we're all on a journey, with no end date, as it should be. We recognize that our efforts will always be a work in progress as the world changes — and we're committed to leading the way as we evolve."
Nadine McRee serves as director of the Indigenous Wellness Core, which partners with Indigenous peoples, communities and key stakeholders to provide accessible, culturally appropriate health services for First Nations, Métis and Inuit people in Alberta.
"I'm deeply honoured AHS has been recognized for its efforts in striving towards excellence in diversity and inclusion," she says. "As an Indigenous team member and former co-chair of the AHS Anti-Racism Advisory Group, I'm proud to say I've been witness to changes that not only aim to address specific incidents as they occur, but also reflect our concerted efforts to remove systemic barriers and address root challenges."
One of cornerstone D&I accomplishments this past year is the Report and Recommendations of McRee's group, including its Anti-Racism Position Statement, which affirms AHS' commitment to combat racism and discrimination in all forms — and lead by example as a healthcare organization that is inclusive, respectful and treats everyone with fairness, equity and equality. This also translates to culturally safe and sensitive care.
"I love the fact that we make Diversity & Inclusion Advisors available to leadership and staff seeking more information on how they can create safer and more inclusive spaces, or to book an education session," says Panas.
"Anyone who interacts with AHS — patients, families, staff, physicians, students, volunteers, midwives and more — have a standing invitation to join our Diversity & Inclusion Network, to share their perspectives, or participate in our D&I Community of Practice."
The CCHL also took note of other recent AHS initiatives that cultivate, promote and foster a more inclusive and equitable work environment, including:
The Clinical Ethics Service has grown into a provincewide service providing over 800 consultations per year with special expertise in diversity issues. It provides frontline staff and managers with advice on the ethical dimensions of caring for patients from diverse populations.
Improved recruitment practices that respect a broad spectrum of cultural sensitivities.
More accommodating interview practices for job applicants who live with disability.
Workforce Resource Groups that support the unique needs of groups (Proud Together – LGBTQ2S+, EMS Women in Leadership, Diversity and Racial Equity).
More employment support for summer students and interns, and job fairs with tribal councils.
Interpretation and Translation Services in 24 languages.
More support and a toll-free line to address Indigenous Patient Experiences and Concerns.
A Wisdom Council and Elder Circle health advisory group that reports directly to the CEO.
Change the Conversation which publishes resources on dozens of topics such as cultural appropriation, benevolent sexism, equality versus equity, and truth and reconciliation.
Connect Care, AHS' new provincial clinical information system, features a robust method of collecting and using patient-identifying information related to gender, affirmed name, pronouns and organ inventory that's unlike anything else in Canada.
"While AHS acknowledges there's still much work to be done, I'm thankful we're moving forward towards ReconcilACTION in a meaningful way as well as gaining more and more allies along the way," says McRee. "I am truly grateful to be part of an organization that values diversity and inclusion and aiding my voice to be heard alongside these changes."
"Collaboration is the key and continues to be the path forward," adds Panas. "It allows us to come to work as our authentic selves — to feel empowered to support each other — and to stand up and speak out as we connect with one another."
A representative of AHS will be officially presented with the diversity and inclusion award — along with other CCHL national winners — at a virtual Honouring Health Leadership event on June 16.