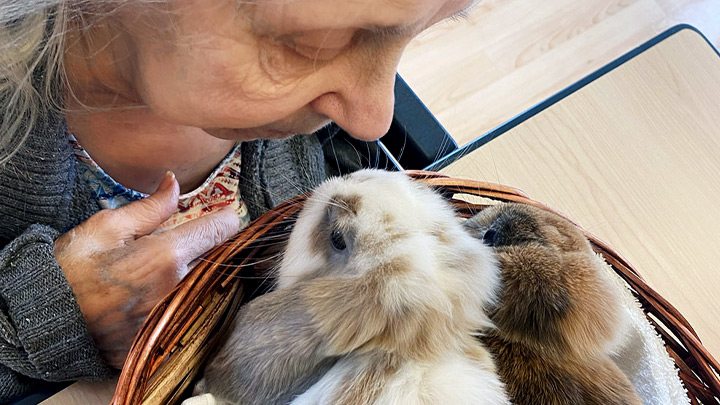 Vera Marston, a long term care resident at Northwest Health Centre in High Level, cozies up to her new long-eared pals Marvin and Henry.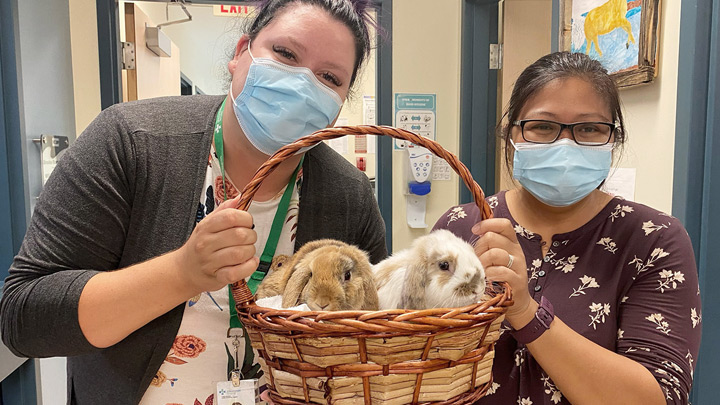 Recreation therapist Brooke Morin, left, and recreation therapy assistant Aleta Lazo take bunnies Marvin and Henry around to meet their fellow residents at Northwest Health Centre.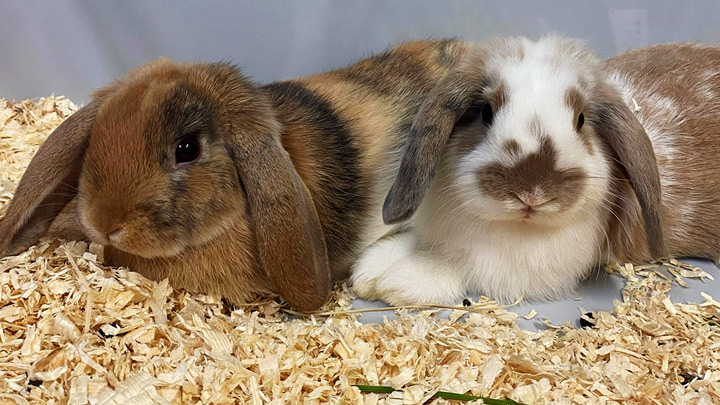 Marvin and Henry are two Mini Lop rabbits who brighten days for seniors at the Northwest Health Centre long term care unit in High Level.
Bunnies Marvin and Henry making fast friends in long term care
Story by Diana Rinne | Photos by Brooke Morin
The Northwest Health Centre's long term care unit has two new residents who are literally hopping to get to know everybody in their new home.
Marvin and Henry are two Mini Lop rabbits who have moved into the facility, much to the delight of both residents and staff.
"It just melts your heart," says recreation therapist Brooke Morin, who's leading the bunny project.
Morin, who began in her role for North Zone Area 1 facilities in March, noticed there weren't many pet visits in the facility and began to look at options to increase those opportunities.
"I had done bunnies in another facility I worked in, so I brought it forward to my manager, and we rolled with it from there," she says.
The bushy-tailed idea was presented to the long term care residents' council — and received approval even before Morin reached out to a local High Level pet store, Kat's Kritters, to bring in the bunnies.
"I knew the Mini Lops would be good, because they're very cute, and they stay quite small," Morin adds.
With infection, prevention and control measures in place, Marvin and Henry now have their own cage, which gets daily spot cleaning and a full cleaning twice weekly.
"We do schedule pet therapy with them and have a small basket that we use to take them around," says Morin. "Residents can interact with them without us, so they can drop a carrot or just sit and watch them if they want."
Marvin and Henry are settling well into their new 'lair'. Currently, they're spending time in the rec therapy office and getting comfortable with being handled.
"The residents are really excited and so are the staff," adds Morin. "In these times, it's just so great to see everyone excited about something."