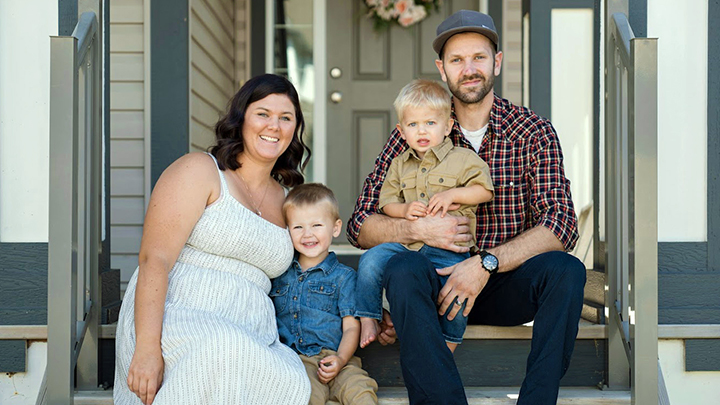 The Stewart family, from left, are mom Chelsea, Elijah, Kayleb and dad Kris. Shortly after he was born, Kayleb, now 20 months, was screened and diagnosed with permanent hearing loss through Alberta Health Services' Early Hearing Detection and Intervention program. Today, says Chelsea, "he can hear and understand, and be with his brother and play and watch cartoons, and all those other fun things, just like every other kid. I'm just so grateful that the province has this program."
Newborn screening makes a 'magical' difference for Alberta family
Story by Shelley Boettcher & Melissa Schock | Photo by Evan Isbister
Chelsea Stewart will never forget how she felt when she watched her son Kayleb hear her voice for the first time.
"It's the most magical moment you'll experience in your life," she says. "You can't even put into words how amazing it is."
Little Kayleb could hear the family's dogs bark. He could hear his older brother speak to him. He could hear his mom and dad's voices. Soon, he started talking, with "dada" first, and then "mama".
It wasn't always this way, however. Shortly after he was born, Kayleb was screened and diagnosed with permanent hearing loss through Alberta Health Services' (AHS) Early Hearing Detection and Intervention (EHDI) program — one of two provincial newborn screening programs available to Alberta babies.
The other is the Newborn Metabolic Screening Program, which provides blood-spot screening, to detect a range of treatable conditions and ensure clinical assessment, diagnostic testing and early treatment where necessary.
"Newborn screening helps give babies the best start to life possible," says Dr. Huiming Yang, medical director of AHS Screening Programs.
"It's the best way to find out if your baby has a condition that you, your doctor or your midwife may not know about. Early screening ensures babies get treatment when it can help the most."
Stewart recalls: "I was so overwhelmed and anxious about the initial diagnosis."
But she quickly realized she had a full team of healthcare professionals to support her family's journey.
"There's a huge network of people who are going to guide and support you," she says, a group that includes AHS audiologists, speech language pathologists and more. "You're never alone."
By the age of three months, Kayleb already had his first set of hearing aids.
"He's now 20 months and he's the most special, incredible little boy," adds Stewart.
"He can hear and understand, and be with his brother and play and watch cartoons, and all those other fun things, just like every other kid. I'm just so grateful that the province has this program."
September has been Newborn Screening Awareness Month. Throughout the month, AHS communicated with Albertans and healthcare providers to raise awareness of these critical services. Visit our website to learn more about the programs available to Alberta babies.