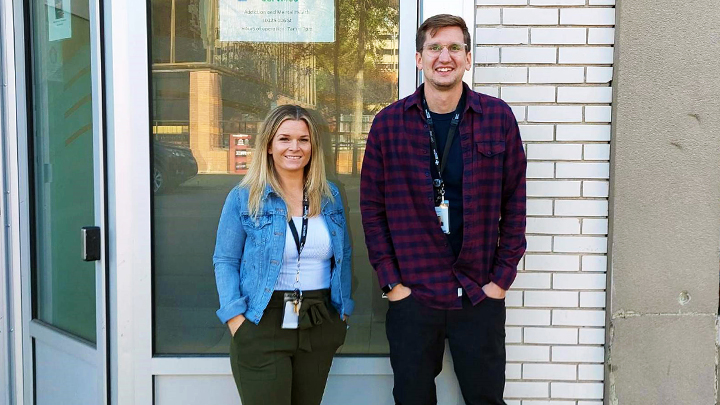 As members of the Mobile Outreach Team with the Opioid Dependency Clinic in Edmonton, Social Worker Shayne Vars, left, and Registered Nurse Todd Cassios take to the Edmonton streets every week, meeting people who use opioids, to help them get the care and support they need. Aug. 31 is International Overdose Awareness Day – a day acknowledged around the world through community events, memorials, and campaigns aimed at reducing the stigma of drug-related deaths, increasing knowledge about overdose prevention, and remembering friends and loved ones who have been lost to drug overdose. Photo supplied.
Mobile team for Opioid Dependency Clinic takes care to the streets
Story by Shelley Rattray
Taking the steps to walk into treatment can be challenging. Fortunately, the Mobile Outreach Team with the Opioid Dependency Clinic in Edmonton is literally 'meeting people where they are at.'
Registered Nurse Todd Cassios, Social Worker Shayne Vars and Peer Support Worker Rob Gurney are taking to the streets every week to meet people who use opioids to help them get the care and support they need through accessing wraparound services, including treatment and social healthcare.
"We are breaking down barriers to care, dispelling myths and educating people who use opioids so they have a better understanding of what treatment can look like for them," says Cassios.
As an RN with the mobile team, Cassios reviews clients' medical history, provides education on treatment options — including the differences between Methadone and Suboxone — assists in required medical tests needed to begin treatment, and provides safer use information to participants needing a harm-reduction approach.
While many of their visits are to transitional accommodations, the team also helps to connect participants with supports such as locating permanent housing, accessing personal identification and financial assistance, so they can get the help they need wherever they may be.
"If we aren't able to support them with something they need or a question they have, we connect them with someone who can help," says Vars.
In addition to connecting with community agencies, the team helps coordinate care and treatment for individuals who need support accessing services at the Edmonton clinic. Participants may be located in Sherwood Park, or other communities farther away from the downtown ODP Clinic.
The mobile teams' goal is to break down barriers to care by supporting these participants in connecting with the community services they may need.
"We work with pharmacy, physicians and nurses to support individuals," says Gurney. "If they need social supports, we are able to connect them to the services they need. We really look at what is the best approach and set goals with our participants.
"Celebrating their successes is so important, wherever they are at in their journey."
Gurney adds that building trust and showing kindness are the two key factors in people feeling comfortable enough to seek out help. "A smile goes a long way," he says.
Their approach of 'meeting people where they are at' has already shown benefits. The team was recently able to connect two individuals to treatment on their very first visit to Boyle Street and the Coliseum Inn, currently being used as temporary housing for houseless Edmontonians.
The mobile team remains committed to showing clients that they are there to support them — and that they're ready to assist in getting to the clinic when they're ready to commence treatment.
Learn more about International Overdose Awareness Day.