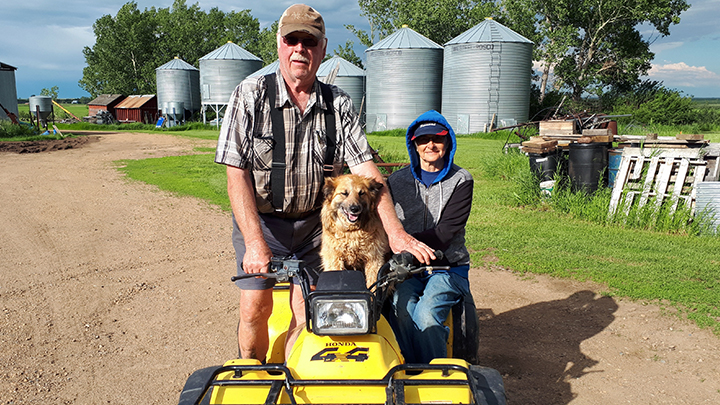 Norman and Leona Storch, with their dog Molly, raise livestock and seed on a farm in the Hanna area. All are happy to have Norman back home again after a brief hospital stay.
Swift pacemaker implant gets senior home for calving season
Story by Tracy Kennedy
HANNA — When Norman Storch went to the Hanna Health Centre feeling short of breath and bloated, he hoped for a quick prescription so he could get back to the busy calving season at his nearby farm.
Unfortunately, the physician took one look at him and told the 69-year-old that he was in heart failure.
"And I said 'doctor, I don't have time for all this. I'm too busy calving and seeding is coming up,'" recalls Storch. "But he informed me that if I left to go home, I wouldn't come back. I assured him once calving season was over and I had some seed in the ground, I'd return and take care of it.
"But then the physician said 'you're not hearing me: if you leave now, you won't come back,' and then I understood just how serious this was."
It turned out that Storch needed more than a prescription for gas and bloating — and was transferred to Red Deer Regional Hospital Centre (RDRHC) to receive a pacemaker.
Though heart failure is no laughing matter, Storch joked with the healthcare team that his wife would not be impressed being left to deal with their cattle all alone. Calving requires around-the-clock monitoring — something that's easier when you have a partner for backup.
Despite requiring a serious health procedure — especially during a busy farm season — he views his experience positively and has nothing but appreciation for the staff who cared for him.
"I can't say enough about my experience in the cardio unit," adds Storch. "I made some very quick friends with the nurses, who were just so professional and amazing. The physicians, Dr. (Jitendra) Singh and the surgical team, didn't miss a detail. Even the food was good. I was just so impressed."
When Storch left a note for the healthcare team thanking them for the wonderful care and great people, it was circulated as a morale booster.
"It really makes our day to hear when our patients are pleased with their care, and that it's made a difference to their quality of life," says Kelly Longard, director, Cardiac Sciences, Critical Care and Respiratory at RDRHC. "The healthcare team and the cardiac device team worked quickly and diligently to get Mr. Storch back to his farm fit and fine for calving season, and at home where he belongs."
Storch went to emergency on Sunday and was home by Wednesday. Everything worked out, as well. They didn't lose a calf and, because the weather was warm and dry, they didn't face any of the issues that can arise due to mud holes or storms.
He's been pleased with the follow-up he received from his physicians, who monitored his progress, as well as with the care of Registered Nurse Louis Porterfield, whom Storch refers to endearingly as "the mechanic" for his exceptional guidance regarding the ins and outs of his new cardiac device.
"Every farmer needs a good mechanic," Storch says with a smile.
Storch has now finished his seeding and, as his energy levels continue to rise, he reflects on his experience at hospital.
"I couldn't believe how busy they were and it all ran like clockwork. If there was anything good to come out of this it was to become more aware of how valuable coordinated the medical care system is.
"I'm very grateful to be home again and, frankly, to be alive."