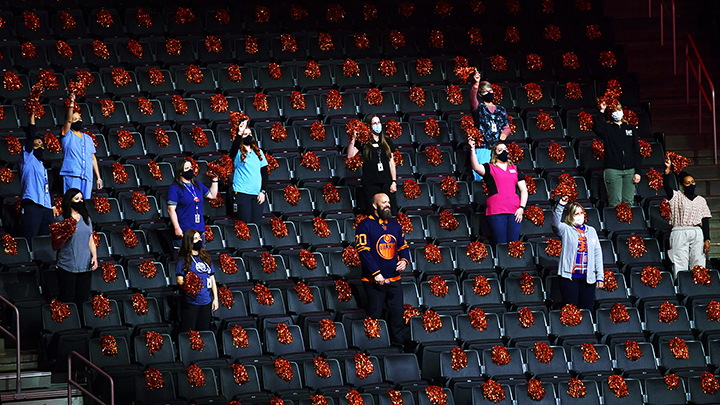 A dozen randomly-selected AHS frontline healthcare workers joined the Edmonton Oilers' anthem singer in the stands of Rogers Place to watch the May 12 NHL playoff game against the Winnipeg Jets.
Hockey club donates 50/50 proceeds to establish emergency fund
Story by Sharman Hnatiuk | Photo by Andy Devlin
In recognition of frontline healthcare workers keeping Albertans safe throughout the pandemic, the Edmonton Oilers Community Foundation (EOCF) chose to support 40 hospital and healthcare charities across Alberta Health Services' North, Edmonton, and Central Zones.
The charities each shared in the proceeds of the online 50/50 draw from first two Edmonton Oilers games of the 2021 Stanley Cup Playoffs.
Together, the charities created Operation Frontline Impact to establish an emergency, distress and critical programming fund for the nurses, nursing aides, doctors and non-medical staff who work in hospitals across what the team likes to call 'Oil Country'.
In addition to the funding initiative, the Edmonton Oilers also received an exemption from Alberta Health, which allowed 12 frontline healthcare workers to attend the first two home playoff games against the Winnipeg Jets, while adhering to public health and safety measures.
Terri Snell, who works at the Royal Alexandra Hospital, says standing alongside frontline colleagues as anthem singer Rob Clarke belted out O Canada before the game is an experience she'll never forget.
"This was the first national league hockey game I'd ever been to. To be able to attend in person during the pandemic, as well as it being a playoff game, was absolutely amazing," adds Snell, a medical device reprocessing technician. "It was an honour and a privilege to be at the game."
The 24 frontline staff were randomly selected from programs such as intensive care, emergency, environmental services, public health, food and nutrition services, medical device reprocessing, Indigenous health, respiratory therapy, pharmacy, medicine, surgery, cardiac and women's health.
As the recipient of the EOCF 50/50s, the hospital foundations who came together for Operation Frontline Impact say the funds will help address the needs of frontline staff who've been committed to the fight against COVID-19.
"Our frontline workers are resilient and compassionate, and they continue forward knowing they are making a difference, often forgetting to address their own physical and emotional needs," says Sharlene Rutherford, president and chief executive officer of the Royal Alexandra Hospital Foundation
"Thanks to the EOCF commitment and altruistic support, our hospital foundations can help address some of the challenges faced by our heroic frontline workers.