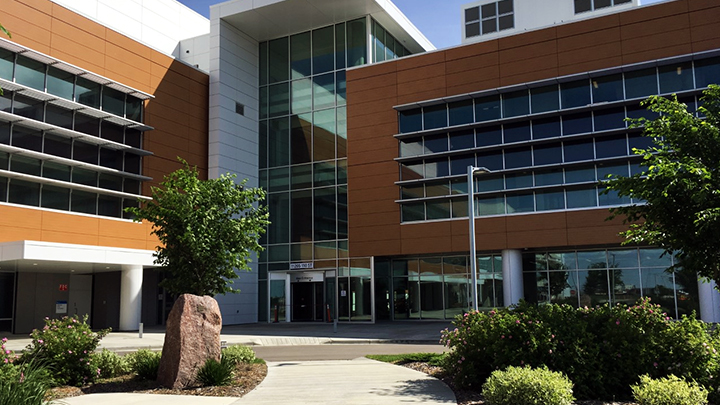 Take our survey on Alberta's newest hospital, Finding Our True North, and help us find and define the heart and soul of the soon-to-open Grande Prairie Regional Hospital. Photo supplied.
Help us shape the heart & soul of Grande Prairie Regional Hospital
Story by Terry Bullick
As the Grande Prairie Regional Hospital nears completion, a new survey — Finding Our True North — will help discover the site's heart and soul.
AHS patients, families, staff, physicians, volunteers and foundation partners, as well as stakeholders throughout northern Alberta, are invited to take the survey. People elsewhere in the province are also welcome to take it.
"We have a tremendous story to tell about our new hospital. This includes talking about its new equipment and surroundings as well as what kind of experience people can expect when they come here," say Stacy Greening, the senior operating officer for the Queen Elizabeth Hospital and North Zone Addiction & Mental Health.
"You can think of our Finding Our True North survey as one of the ways we'll uncover the personality of our new hospital."
The new hospital will have 243 beds, 11 operating rooms and a 28-bed mental health unit. More than 4,000 square metres of the site will be dedicated to nursing and medical career programming from the Grande Prairie Regional College.
As well, the hospital will feature a new cancer centre, with two radiation vaults, making Grande Prairie the fifth Alberta city to provide radiation therapy, along with Edmonton, Calgary, Lethbridge and Red Deer.
The Grande Prairie Regional Hospital will be a cornerstone of the community life. Hundreds of people will be cared for, work at, learn at and visit the hospital every year.
The survey will help reflect the distinct character of the people and care at the hospital.
The survey closes June 15, 2021. Add your voice to it here.