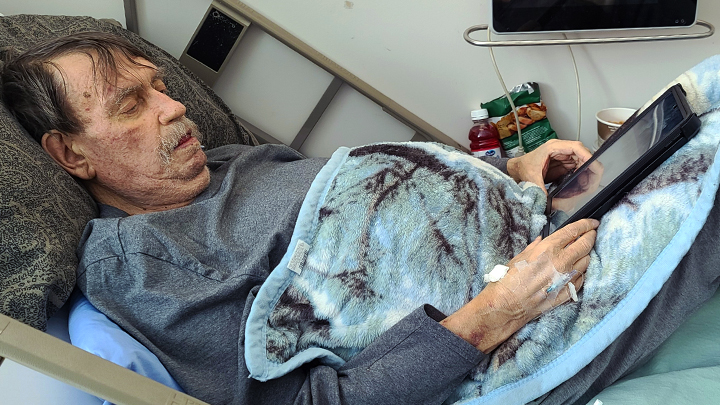 David Brooks, a patient at Slave Lake Healthcare Centre, enjoys listening to Horton Hears a Who, by Dr. Seuss, as it's read to him by a Grade 4 student from E.G. Walhstrom School. The school has partnered with the healthcare centre to read daily to patients and long-term care. Photo supplied.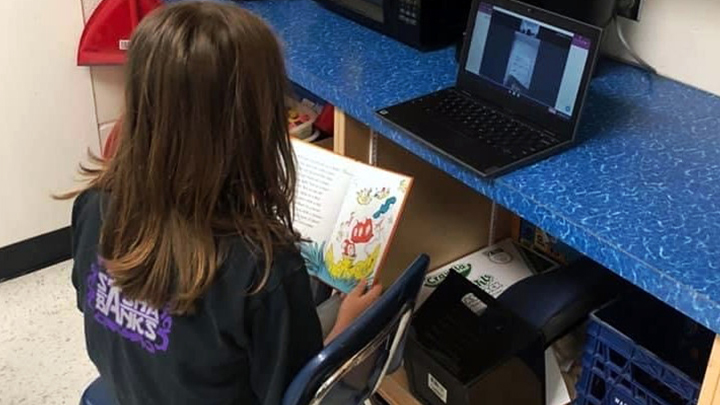 A student of E.G. Wahlstrom School in Slave lake reads virtually to a patient at Slave Lake Healthcare Centre as part of a special literacy partnership between the school and AHS. Photo courtesy of E.G. Wahlstrom School.
Wahlstrom pupils partner with AHS, connect with seniors
Story by Diana Rinne
While it's common for parents and grandparents to read to their children, here they've turned that idea around to have elementary schoolkids connect with, and read virtually, to patients and long-term care residents at Slave Lake Healthcare Centre.
"One of our staff members, an LPN at our site, brought the idea to me," says Sarah Lukan, clinical nurse educator. "She just thought it would be a really great way for generations to connect — and to kind of fill that void right now during COVID when our visitor policy is so strict."
Lukan pitched their idea to students and teachers in Grades 4 to 6 at E.G. Wahlstrom School in Slave Lake, and they jumped on board.
With AHS iPads available for patients to use on-site, a Zoom link was set up for students to log in and connect with patients. Once online, the students virtually meet with the patient and read to them via the video conference.
"At that age, they just love reading," says Lukan. "It's been happening every day," she says, happy that the project has expanded from the acute care inpatient ward to include residents in the long-term care centre.
"The students really enjoyed the reading program," says Grade 6 teacher Allyson Strickland. "I wasn't sure any students would sign up when I asked them about it. We were able to do two weeks of reading to the elders and once the two weeks were up, other students wanted to get a chance to read to the elders."
For the students, the project has provided a boost in self-esteem and confidence, as well as fluency in reading, she adds.
"It's not very often students want to read out loud to their peers," says Strickland. "This program allowed for a safe space to be able to read out loud and help the students with their fluency skills. Students got a chance to share their love of reading to the elders — and even pick their favourite books to share."
One student says: "It was nice, peaceful and calming to read aloud, and I can take my mind off things. They appreciated listening to me while I read to them."
Another adds: "Maybe the elders can't read and couldn't read for a long time — so it's nice someone could read to them. COVID didn't allow visitors to come in the building so it was nice that Zoom was able to work."
"They love it," says Lukan. "The people I've taken it to, they just really love listening to the kids. They say 'they're such great readers and they're choosing such interesting books.' I think they just really enjoy seeing their smiling faces."
Occasionally, long-term care residents are also able to enjoy a reading as a small group, simply by connecting their iPad to a TV monitor and Bluetooth speaker.
Lukan has also taken the project to share with a local seniors' lodge, and she hopes to continue with it throughout the school year.
"Right now each teacher is taking a week, so we've had two Grade 6 classes, one Grade 4 class, and I think a Grade 5 class is next. We should have enough to keep reading until the end of June," she says.