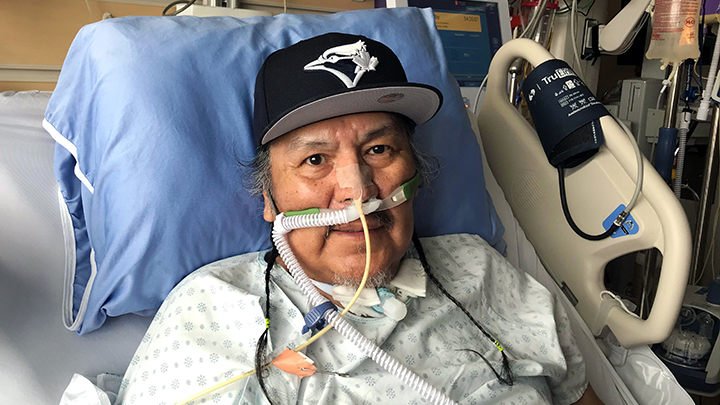 Elmer Rattlesnake, a well-known cultural leader, is on the mend from COVID-19.
Indigenous medicine & ceremony part of Red Deer care plan
Story by Tracy Kennedy | Photo by Joanne Crook
Drumming, ceremony and Indigenous medicines are helping a Central Alberta man make a remarkable recovery at Red Deer Regional Hospital Centre.
Elmer Rattlesnake, 61, has been dealing with the effects of COVID-19 in the hospital's intensive care unit (ICU) since February. Hooked up to a ventilator and unresponsive for much of that time, he has since woke up. Grateful that his wife Joyce and son Dylan have been constantly at his side, Elmer has been showing progress day by day — most notably since friends and family held a drumming circle to help him heal.
"Ever since that day, he's been improving," says his son, Dylan Rattlesnake. "The power of the drum, the singing and the prayers all work together."
On Feb. 20, a group came together outside Red Deer Regional Hospital Centre to drum, sing and dance as close as possible to Elmer's window. Nurses pasted a heart on the window with the letter "E" to help the group ensure they were in the right spot. They then patched a cellphone on the ground through to the speakerphone in the hospital room to amplify the sound. Elmer was still sedated at the time of the event, but his family feels he heard it.
Friends, family and neighbours came together in honour of the cultural leader who is originally from Maskwacis' Ermineskin Cree Nation, but has lived with his family for decades in a small, traditional community called Mountain Cree Camp, north of Nordegg. Rattlesnake is well-known as a teacher and powwow singer, fancy dancer and master of ceremonies.
"They sang songs for Dad and they sang songs for the rest of the people in hospital," says Dylan. "It kind of lifted the spirits of all the doctors and nurses, too. They stop in and talk to me about it. Two nurses told me 'oh you guys just made us cry.'"
Joanne Crook, an ICU social worker, says there were tears all over the unit because it was such a powerful experience. Another Indigenous family in the ICU was also able to take part. Patients and staff all along the north side of the hospital watched and listened, and even neighbours across the street came out of their homes.
"Several family members have sent me messages telling me how strong it made them feel that they can contribute to his well-being. His daughter told me that she felt less worried and sad about her Dad's condition because of this experience," says Crook.
She says in addition to Elmer's family, other Indigenous patients who have been on the unit over the last year — particularly Elders — have helped physicians and staff better appreciate the importance of traditional ways.
"They can feel the hope that families have for cleansing and powerful ceremonies such as the smudge," says Crook, who adds that smudges are often performed by Elders at bedside, including the ICU — where they can close a door and temporarily deactivate the room's smoke alarms and sprinklers. "And we've worked to include Indigenous medicines such as healing teas into care plans."
And for that, Dylan is thankful.
"They're pretty supportive of what we do. Every day we would bring medicine and then we'd be gone for the day and all of a sudden we would get a phone call at nine o'clock at night from the hospital and it's the nurse: 'Oh I just gave him his last cup of tea,'" says Dylan.
Staff worked with the family once again to hold another drumming circle outside his new room on March 28. This time, Elmer could look out his window, wave to his friends — and tap his toe in time to the music.
Today, he continues to improve. Since working on his breathing exercises and doing physiotherapy, Elmer is talking, drinking water — and taking tentative steps back to normalcy.