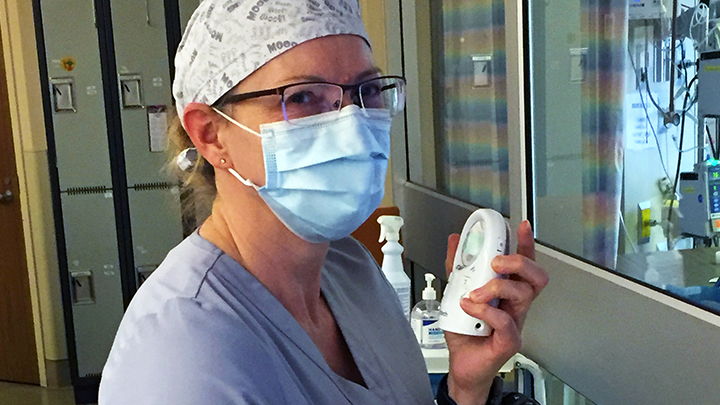 Joanne Shepherd, an ICU nurse at QEII Hospital, demonstrates the use of an audio monitor. A donation from Seven Generations Energy to the Grande Prairie Regional Hospital Foundation will fund 27 new audio monitors as well as other equipment. Photo supplied.
Seven Generations Energy donates $50,000 to enhance patient experience at QEII Hospital
Story by Amelia Schofield
A recent gift to the Grande Prairie Regional Hospital Foundation will have a wide-reaching impact on patients and staff at the Queen Elizabeth II (QEII) Hospital.
The $50,000 donation, made by Seven Generations Energy, will fund nine isolation storage towers, five nerve stimulators and 1,300 safety glasses to enhance the quality of care staff can provide to patients. Their gift will also provide 27 audio monitors, 11 charging stations and radios, and 10 wireless phones — all designed to enhance the comfort of patients in isolation and improve their ability to communicate.
According to Joanne Shepherd, a registered nurse on the ICU unit at the QEII Hospital, the audio monitors are one example of the equipment they use to help patients stay in touch with family.
"When a patient is in an isolation room, it can be challenging for loved ones to communicate with them through the glass walls and doors," she says.
"With these audio monitors, loved ones can easily communicate with the patients from outside the room and provide them with the comfort of knowing their family is there to support them."
Since 2013, Seven Generations Energy has made several donations to the Grande Prairie Regional Hospital Foundation. Their support of healthcare has also extended to organizations such as Alberta Children's Hospital Foundation and Kids Cancer Care Foundation.
Cindy Park, director of community engagement with Seven Generations Energy, says her firm recognizes the unique challenges of COVID-19 and wanted to make a donation that would have a meaningful impact on both patients and staff during the pandemic.
"Our frontline healthcare workers are heroes in the truest sense of the word," she says. "They are brave during times of fear and put the well-being of their patients before their own. At 7G, we wanted to find a way to support them during this difficult time and show our appreciation."
"We also wanted to support patients and their families by helping them feel more comfortable during their hospital stay. I know I speak on behalf of the entire 7G family when I say that I'm very proud of this donation and the impact it will have on so many people's lives."
"Seven Generations Energy's approach to supporting our hospital has always been incredible. They are a big part of our community," says Keith Curtis, executive director, Grande Prairie Regional Hospital Foundation.
"They work with our Foundation, as well as hospital medical and support teams directly, to determine what those teams' needs are to effectively achieve high levels of patient-centric care."
Curtis acknowledges the firm's ongoing commitment to the Grande Prairie community and local healthcare.
"The organizational culture at Seven Generations Energy and their vision for the communities in which they do business has helped to make this partnership an ongoing success story. Thank you to everyone at Seven Gens."
Stacy Greening, senior operating officer, Area 9 Grande Prairie & Area, North Zone Addiction and Mental Health, also extends her appreciation to the firm.
"We are so grateful for their ongoing and generous support of the Grande Prairie Regional Hospital Foundation," she says.
"With their most recent gift, we will be able to enhance the comfort of our patients and their loved ones, while also providing further supports to our staff during this challenging time."
For more information on the Grande Prairie Regional Hospital Foundation, visit gphospitalfoundation.ca.