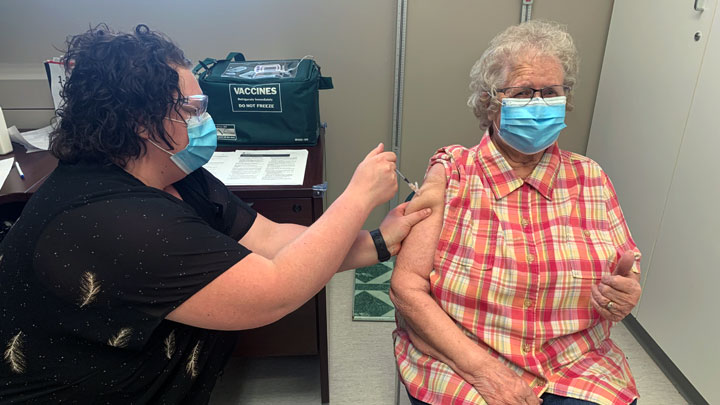 Lavina Barber, 86, gives a big thumbs up as she receives her COVID-19 vaccine shot on her birthday in Camrose. Photo supplied.
Getting protection against COVID-19 puts senior's mind at ease
Story by Tracy Kennedy
While it's hardly customary to get a jab in the arm on your 86th birthday, it's hardly been a typical year for any of us — let alone for Lavina Barber, who says the highlight of her birthday celebration was getting her COVID-19 vaccination.
"I couldn't sleep the night before, I was so excited," she says. "This is the best birthday present I've ever gotten."
Lavina is part of the Phase 1 group of seniors, aged 75 and older, to receive the vaccine. She says it's been a long year since the start of the pandemic, but now feels like she can plan for the future again.
"It's been hard having to stay away from friends and family. It makes my day to talk to them on the phone. I have my pictures, but I can't wait to see them all in person, and to especially hug and play with my great-grandchildren," she adds.
Her son, Darren Barber, drove her to the clinic appointment. Along with his brother Perry, the two have been their mom's two designated contacts. They've been visiting her regularly, coordinating FaceTime visits with extended family and bringing her groceries.
But Darren's not just a doting son. As the director for Emergency and Disaster Management in the Central Zone at Alberta Health Services (AHS), Darren is part of a critical team heading up the local COVID-19 response. He meets virtually with leaders of all relevant AHS teams and helps coordinate the response to ensure everyone is on the same page as they meet an evolving variety of needs, including signage and PPE as well as outbreak protocols.
Lavina says she's proud that her son is playing such a key role in AHS's COVID response.
"He's kept me up to date and informed about what was going on. He's a good son," she says. "He and his brother have been helping me so I don't have to risk going out."
Darren adds: "Like everyone with aging parents, you worry about their safety and well-being, especially since my dad passed away almost six years ago. While the restrictions certainly help keep her safe from COVID, they do lead to isolation and loneliness — and you worry about that, too."
He knows, however, how important it is to follow health guidance. And after a year of managing the pandemic professionally, he found it emotional to see his mom getting the protection she needs from the virus.
"With mom getting her first vaccination, it means we can see a real end to all of this," says Darren.
"While we still have to stay safe and follow the rules, this is the first tangible step we have to get through this and back to normal soon. We can see the finish line."
For her part, Lavina sees her birthday shot as the icing on the cake – and is looking forward to more birthdays with her two dedicated sons as well as the rest of her family.
She says, with a laugh: "I'm not sure how they're going to top this next year."