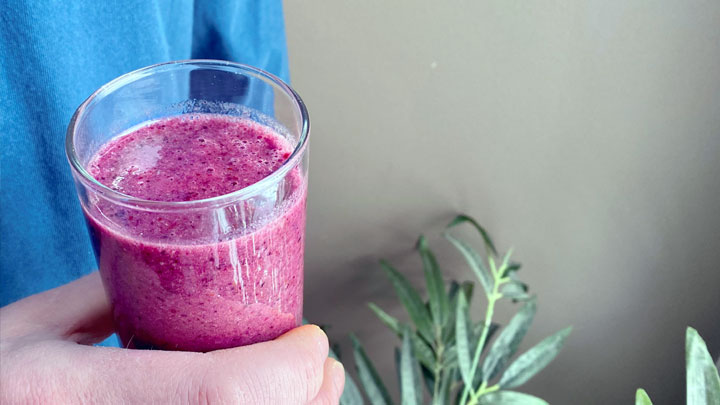 High-protein, high-calorie smoothies boost nutrition for seniors.
AHS dietitians promote better nutrition for seniors during pandemic
Story by Stephanie Krug
Nutrition for seniors encompasses much more than healthy eating — and this is particularly true for seniors in Supportive Living facilities. While mealtimes provide residents with nourishment, they also confer the social benefits of the shared experience — a togetherness that positively impacts their mental health.
A year ago this month, the introduction of COVID-19 physical-distancing in continuing care facilities greatly reduced the amount of time seniors could spend together. As a result, Alberta Health Services (AHS) dietitians who support contracted Designated Supportive Living sites across Calgary Zone began to notice a growing trend in referrals for malnutrition and unintentional weight loss.
As AHS dietitians across the province respond to this trend, here's what dietitians in the Calgary Zone have done to boost nutrition for seniors, in the wake of the pandemic.
"COVID-19 was new to everyone. People were looking for ideas, looking for support," says dietitian Jasveer Brar. Residents weren't able to see their families, friends or neighbors. Meanwhile, the staff they saw were partially hidden behind personal protective equipment. Their world truly changed overnight.
"The (staff) had to quickly adapt their menus to offer higher-calorie options — and change how they provide meals and snacks," adds dietitian Renee Little.
AHS case managers and dietitians also collaborated on creating an action plan — Enhancing Nutrition Care for Residents during COVID-19 — which they launched in Designated Supportive Living sites to support residents throughout the pandemic.
Dietitian Erica Noddin adds: "The support we received from sites throughout this initiative was instrumental for the success of the recommendations."
The action plan addressed the experience of Designated Supportive Living residents, with a goal to promote nutrition by supporting mental health. Recommendations indicated they should offer larger portions at meals, provide two-per-cent or whole milk with meals, and deliver higher-protein and calorie snacks between meals and before bed.
Since the plan's introduction, site staff and dietitians are seeing improvement in the nutrition status of residents. Weights have started to stabilize and referrals are dwindling.
"Residents' families were so grateful to have everyone looking out for their loved one," says dietitian Amanda Rieger.
Despite the many challenges brought on by COVID-19, the ongoing pandemic has also highlighted how creativity and innovation in patient-centred care can prevail.
March is Nutrition Month in Canada, and Dietitians Day (which fell on March 17) celebrates dietitians for their dedication and passion.
If you would like to connect with an AHS dietitian, visit Nutrition Services online.