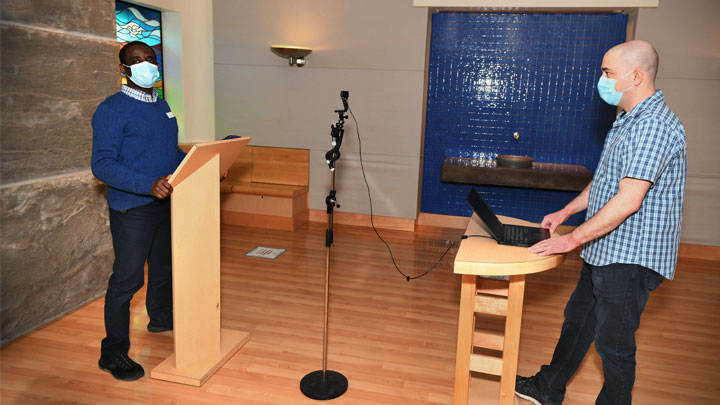 The Alberta Children's Hospital Celebration of Life Service took place virtually through Zoom this year. The ceremony was led by AHS spiritual health practitioner Simon Mala, left, with support from telehealth technician, Kevin Murray, and other event committee members. Photo supplied.
Celebration of Life moves online to reach bereaved parents during pandemic
Story by Amelia Schofield
Over the past 20 years, the Alberta Children's Hospital Celebration of Life Service has provided families who have experienced the loss of a child with an opportunity to grieve and connect with others experiencing the same loss.
The annual in-person service was not held last year due to COVID-19. However, this year, the event committee decided to host the Alberta Health Services (AHS) ceremony through Zoom and planned carefully to ensure the new format would offer the same meaningful experience to attendees.
"Each year, the in-person service provides bereaved parents and the staff who worked with their children with an opportunity to honour the children that have been lost," says Megan Miller, an AHS grief support coordinator and member of the event committee.
"It was important that we held a ceremony this year — but it was equally important that we provided the same calibre of experience that we provided in previous years."
The virtual Feb. 20 service welcomed all bereaved families whose children received care at the Alberta Children's Hospital and Rotary Flames House as well as other AHS acute care hospitals in the Calgary area. It was also open to AHS staff who worked closely with those families and children.
AHS spiritual health practitioner Simon Mala led the service, which included the reading of a poem, a photo presentation to honour the children who passed away, and a pre-recorded speech from a bereaved couple further along in their grieving process, who offered a message of hope and healing for the newly bereaved.
According to Miller, the virtual format was well-received by attendees.
"We had more than 200 parents, grandparents, family members, friends and AHS staff join us from across Canada — and even as far away as Mexico," she adds. "It was nice because extended family members could take part, as well as staff who may have not had the opportunity to attend an in-person ceremony."
Since the start of the pandemic, the use of Zoom has grown to include many programs and services, including consultations with physicians, community health programming, professional development and more.
"Because of the urgency surrounding COVID-19, we were able to quickly scale Zoom across the organization. Its use has since grown from 8,000 active users to more than 27,000," says Jason Kettle, provincial director, Unified Communications, AHS.
"It has had such a big impact on the way we deliver our services, and I'm pleased to see it used in such innovative and meaningful ways."
In addition to the technical support it has received, this memorial service has also received funding in past from the Alberta Children's Hospital Foundation. The foundation provides support to both the Alberta Children's Hospital and Rotary Flames House.
"While it is difficult to think about children needing a hospice, Rotary Flames House offers extraordinary care that is of great comfort to families when they experience the loss of a child and on their journeys through grief," says Saifa Koonar, president and CEO of the foundation.
"The hospital's memorial service is an extension of that care and such a blessing for families. It's truly the foundation's privilege to help honour these very cherished children in such a meaningful way."
Miller also expresses her gratitude to her fellow committee members — Simon Mala, Kevin Murray, Tara Rhodes, Kathy Lyons, Kate Ross, Stacey Waltz and Teena Gilmore — for their commitment to making this ceremony possible. The committee will hold a second ceremony for more families later this spring.
"I'm thankful to our team for their openness, creativity and ability to think outside the box with this virtual service," she says.
"They truly brought it to life while still meeting the needs of the families who attended."