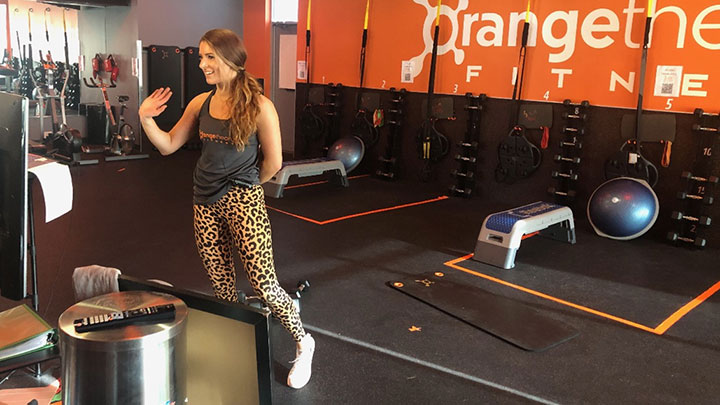 Alicia Farmer, a registered nurse in the cardiovascular intensive care unit at the Mazankowski Alberta Heart Institute, teaches an online fitness class as part of the Maz Move-A-Thon. Photo supplied.
University Hospital Foundation events support advanced care at the Maz
Story by Amelia Schofield
For patients like Walter Hiltebrand, the Mazankowski Alberta Heart Institute will always hold a special place in their hearts.
In 2019, Hiltebrand was admitted for a heart valve replacement at the Mazankowski. During his recovery, he suffered a heart attack and was in a coma for several weeks. During that time, he was placed on an extracorporeal membrane oxygenation (ECMO) machine, which took over the function of his heart and lungs. Hiltebrand credits the care he received from the staff as well as the ECMO technology for saving his life.
"I was on complete life support, but I survived it all. I'm feeling very well now," he says.
"I only have the best words and appreciation for the staff at the Mazankowski, from top to bottom. They are incredible people with incredible knowledge."
The ECMO program is supported by the University Hospital Foundation, with funds raised from 630 CHED Heart Pledge Day, a radiothon they host each February for Heart Month. This money helped buy the most advanced ECMO equipment, including new state of the art ECMO consoles, which support patient transport and help doctors initiate their life-saving care sooner. This year, a number of activities took place once again to recognize Heart Month and raise funds for the Mazankowski.
The first event was the staff-led Maz Move-A-Thon, which replaced the popular Maz Spin-A-Thon this year. The event invited individuals and teams to get physically active throughout the month while raising funds for the University Hospital Foundation. Activities included a challenge where participants were encouraged to 'walk across Canada' (over 11 million steps) by the end of the month as well as staff-led fitness classes.
"It's a great goal and the Mazankowski is a great cause. We're always supporting cardiac health and innovation, and this event is a way to get involved, get active and work as a team to reach a common goal," says Stephanie Wold, a Nurse Practitioner for Adult Cardiac Surgery at the Maz, and the lead organizer for this year's event.
"Along with the fundraising piece, it's a way for staff to work together, improve our activity and lift our spirits a bit after a hard year."
In addition to the Maz Move-A-Thon, the University Hospital Foundation hosted their 630 CHED Heart Pledge Day again on Feb. 24, and two virtual expeditions focused on innovation in cardiac care on Feb. 18 and 25.
"Each year in February we see the incredible generosity of our community in action. From the people who donate during Heart Pledge Day, or participate in a community fundraising event, to our dedicated sponsors who prioritize supporting cardiac care at the Maz, every dollar helps ensure the Maz remains one of the leading complex cardiac care centres in the world," says Dr. Jodi L. Abbott, President & CEO of the University Hospital Foundation.
"We want to thank all our supporters for their commitment to advancing health in Alberta."
Hiltebrand shared his experience as part of this year's Heart Pledge Day. He says he did this to show his appreciation for everyone at the Maz.
"When I got the phone call from the University Hospital Foundation, there was no doubt in my mind that I would participate in their efforts to help," he says.
"I'm so appreciative of what the staff at the Mazankowski did for me — and I think we're very fortunate to have such a world-class institution here in Edmonton."
For more information on the University Hospital Foundation, visit givetouhf.ca.