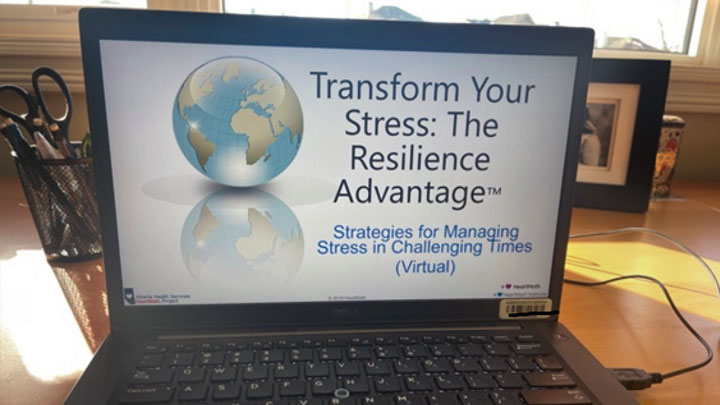 Transform Your Stress workshops are now being offered virtually by Alberta Health Services. Photo supplied.
Online workshop builds mental health, teaches coping strategies
Story by Shelley Rattray
Living with the stress of COVID-19 is challenging. Alberta Health Services (AHS) now has a virtual workshop, Transform Your Stress, which serves up coping strategies and support, among the many resources it already offers to promote mental wellness.
In addition to online and phone supports such as Togetherall and the Mental Health Help Line, AHS is offering these workshops for both the general public and AHS staff.
"Transform Your Stress" workshops help people learn about how they handle stress, what works for them and what other strategies can help," says Diane McNeil, director, Promotion, Prevention and Community Initiatives for Provincial Addiction and Mental Health.
AHS has offered stress-related workshops since 2010, however, as a result of COVID-19, more virtual options are now being offered. Broken down into two parts, the workshops allow participants to learn about stress, review their existing coping strategies, and learn two practical stress-relieving techniques. In Part 2, participants are able to put into practice the strategies they learned in Part 1, plus learn three more techniques. Each participant will come away from the workshops with their own personalized action plan.
"We're really excited to expand the Transform Your Stress workshops into two parts enabling us to help people put into practice the tools and strategies around managing their own stress," McNeil adds.
"We know this pandemic is increasing stress and it is our hope that participants are able to take away concrete actionable strategies that will help them better manage stress in their day-to-day lives beyond just coping with COVID."
To learn more about Transform Your Stress or to sign up for the public courses, see www.ahs.ca/helpintoughtimes.