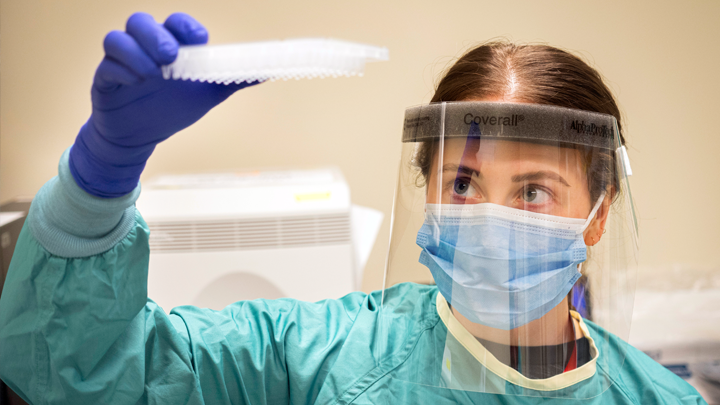 Process Improvement teams helped Alberta Precision Laboratories develop processes and coordinate efforts required to manage the increasing public demand on COVID-19 testing.
Process Improvement team steps up to streamline pandemic services
Story by Ashley Graydon | Photo by Leah Hennel
The COVID-19 pandemic has changed many things — but it hasn't changed how we always work together to learn and improve in the best interests of our patients and one another. A part of that involves looking at how we can make our processes more efficient and effective.
The Process Improvement team is one of many teams helping with that during the COVID-19 pandemic response. Its members partner with groups across the organization to help solve problems and manage change. That's why their expertise continues to be such a valuable asset, especially over this past year.
More than many of us realize, the team has helped with COVID-19 testing and assessment centres, lab logistics, contact tracing and, more recently, with vaccine distribution.
"Alberta Precision Laboratories reached out to our process improvement team early on to support them as they navigated the huge increase in lab testing required during COVID-19," says Michael Sidra, Senior Program Director for Quality & Healthcare Improvement (QHI). "The main focus for our team was on the transportation logistics of these tests across the province."
A member of that team included Clif Skrypnyk, a senior process improvement consultant, who helped with the coordination. He recalls the experience: "I believe the benefit of our team being involved in the COVID-19 testing transportation logistics is that we could look at the process from an outsider's view. I think that helped in this project, and really, all of our projects.
"Members of our team mapped and analyzed current schedules, routes and frequencies to gain a better understanding of samples sent per day by zone and site. Once we had the knowledge of what was happening, we were able to collaborate with members of the logistics team on identifying routes for increased frequency of pick-ups — and improve communication between the assessment centres and transport teams that helped minimize the turnaround time on all accounts."
Skrypnyk adds: "At the end of the day, it's really about teams coming together and taking the time to evaluate what we are doing and how we can support each other to get even better."
"Using the Alberta Health Services (AHS) Improvement Way (AIW) methodology is critical in these projects," says Skrypnyk. "Most of the COVID-19 work we've done is using AIW theory, tools and concepts."
The AHS Improvement Way, also known as AIW, is a quality improvement methodology that offers a simple, user-friendly approach for all staff to learn and apply to problem solving and managing change in their workplaces and across AHS. AIW also improves staff engagement, builds team cohesion and promotes our culture of improvement.
"Responding to COVID-19 has provided us with some new opportunities to share our training and learnings further," says Sandra Lavorel, process improvement lead.
"We really wanted to bring our training online so more individuals and teams could learn the AIW methodology and apply it to their own projects," she says. "Now, more than ever, we need to be able to connect safely, while also ensuring we provide better access to training in remote areas."
Skrypnyk concludes: "This year has been a whirlwind for us all. We just want teams to know that we are here to help them in the great work they are doing in responding to COVID-19."