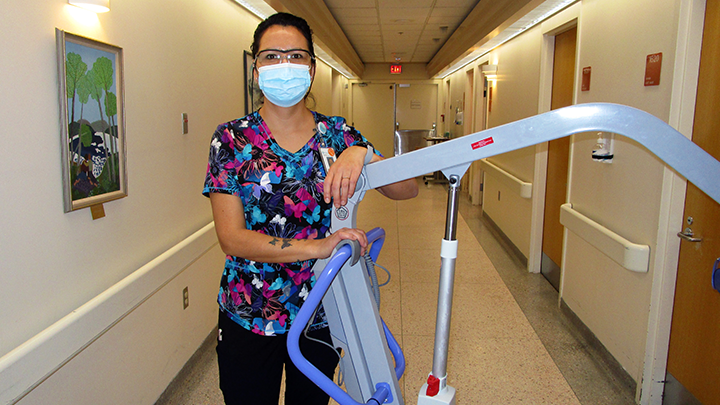 Marcella Friesen, a health care aide at Cold Lake Healthcare Centre, poses with one of two new lifts donated to the centre through community generosity and efforts of the Grand Centre Lions Club and the Cold Lake Medical Development Fund Society. Photo supplied.
Community groups team up support safe transfers in long-term care
Story by Lisa Laferriere
Residents and staff in long-term care at Cold Lake Healthcare Centre are benefiting from the donation of two new mechanical lifts, made by the Grand Centre Lions Club and the Cold Lake Medical Development Fund Society.
Valued at more than $10,000, the equipment enhances patient care and improves their overall care experience.
"We are so fortunate to have such amazing community groups that support us," says Taylor Hall, seniors health manager for Alberta Health Services (AHS) in Cold Lake. "Everyone at the centre is thankful to have received these lifts. They offer many benefits to long term care staff and residents."
With the new additions, there are now a total of three lifts at the centre for staff and residents to use.
"Having two additional lifts at the centre means patients do not have to wait so long to be transferred," Hall adds. "Staff can be transferring multiple residents at a time, helping them do their work and provide care for residents in a more timely manner."
Mechanical lifts assist staff to transport patients who have limited mobility to and from, for example, a bed, wheelchair, shower or toilet. Using a lift is safer than relying on staff members or caregivers to help residents make transitions, with less chance of a slip or fall. All staff at the centre are trained to use the mechanical lifts.
The Grand Centre Lions says while their main focus is on supporting the blind, they happily support their local long-term care centre.
"We thought this was a good use of our gaming funds," says Lion Bob Bruce, president of the Grand Centre Lions Club, formed in 1970. The service club holds a gaming license for bingos and casinos, and hosts many other fundraising events, including an annual golf tournament and concession trailer.
The Cold Lake Medical Development Fund Society also contributed to the lifts. Donation plaques have been engraved and installed on the lifts to honour the donors.
"We are extremely grateful for these donations," adds Hall. "On behalf of the residents and staff, we would like to thank these groups for their support."