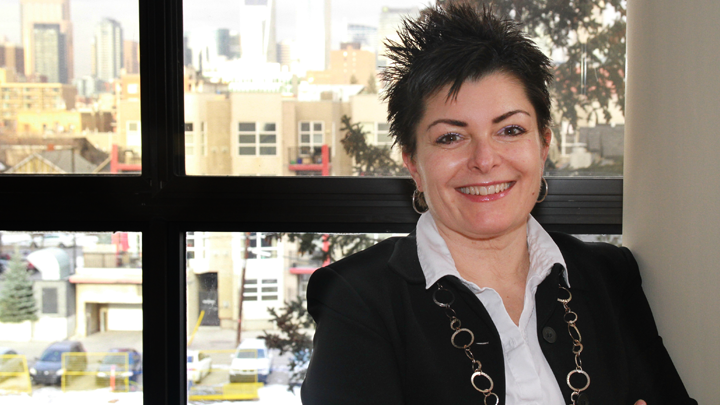 The innovative work of Krista Rawson, a nurse practitioner with Cancer Care Alberta, has been recognized by the Canadian Association of Nurses in Oncology (CANO) with its Boehringer Ingelheim Oncology Nurse of the Year Award. Photo supplied.
Krista Rawson of Cancer Care Alberta named Oncology Nurse of the Year
Story by Jennifer Green
The passion and dedication of Krista Rawson has been recognized by the Canadian Association of Nurses in Oncology (CANO) with its Boehringer Ingelheim Oncology Nurse of the Year Award.
This national honour, presented virtually Nov. 6 at CANO's annual conference, is a feather in the cap for Cancer Care Alberta, a branch of Alberta Health Services (AHS), where Rawson works as a nurse practitioner and practice integration lead. The award recognizes a nurse who's contributed to the advancement of oncology nursing practice and/or health system transformation over the past year.
Established in 1985, the Canadian Association of Nurses in Oncology is a national organization with a mission to advance oncology nursing excellence through practice, education, research and leadership for the benefit of all Canadians, with a vision of being an international nursing leader in cancer control.
"We just wrapped up a pilot project in Fort McMurray," says Rawson. "The project was really looking at a nurse practitioner model of care in a small cancer centre that has only really relied on a physician model." The initiative — which involved both in-person and virtual support of patients and staff — looked at the experience of patients, the experiences of nurses involved, the system and how they would all be impacted by the addition of a nurse practitioner.
"(When the pandemic began) I was seconded to work as part of the Emergency Response team and led a lot of changes in the development of care," she says.
"As part of that role, I looked at how we can enhance staffing if facilities were short-staffed due to staff illness, how to bring testing to patients in a safe way, and most importantly, how would virtual care be delivered for patients experiencing cancer.
"Now we're using that information … in how Cancer Care Alberta delivers care closer to home for our patients and (developing) new models of care."
When asked what advice Rawson might give to oncology nurses starting out, she adds: "There are so many opportunities that present themselves over the course of a career. Be curious. Research, learn, reflect and keep repeating that same cycle — and then strive to know better, so that you can do better".
As part of the virtual awards program, Rawson submitted a video to CANO, which can be viewed here.
One other Albertan, Sydney Farkas of Rocky View County, numbered among the half-dozen nursing nominees, who also included Kim Chapman of Fredericton, Margaret Forbes of Hamilton, and Laurie Ann Holmes and Katie Nichol, both of Ottawa.
With the COVID-19 pandemic, it's been a challenging year in healthcare, and Rawson says the advancement of oncology care in such a time would not be possible "without the support of a whole bunch of people — our staff, our patients and families."