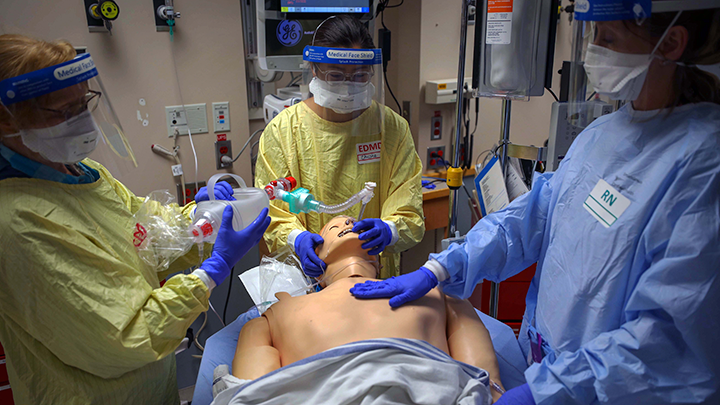 Members of the eSIM provincial team participate in a COVID-19 simulation exercise on a mannequin patient at Foothills Medical Centre in Calgary.
Simulation training critical in COVID-19 response
Story by Ashley Graydon | Photo by Leah Hennel
Although we face uncertain times during this pandemic, here at Alberta Health Services (AHS) we are certain in the strength and preparedness of our many teams in the care of our people and our patients.
One of the teams that support our COVID-19 efforts is the provincial eSIM team — which provides simulation training —and found front-line staff eager for this type of training to protect their teams and patients.
Simulation exercises allow all healthcare team members to practise their skills and establish their processes — often right in their clinical areas. Exercises build team effectiveness, identify new processes and improvements, and proactively mitigate safety hazards.
Mirette Dube, simulation COVID-19 response team lead and simulation consultant, and Dr. Vincent Grant, eSIM Medical Director and emergency physician, are both helping to guide this leading-edge effort. They, along with the entire eSIM team, have been coordinating and training hundreds of clinical and non-clinical teams across the province on the COVID-19 response since early March.
"Several critical care areas such as emergency departments, intensive care units, operating rooms, labour and delivery teams — and many more across all zones — reached out to us for training at the beginning of this pandemic. We did this work as efficiently and effectively as we could, given the urgency," says Dube.
"We have many stories of immediate application of the learning in simulation being applied to the care of COVID-19 patients. We're grateful the team has been able to help and support so many."
Rebecca Cotton, clinical nurse educator at WestView Heath Centre in Stony Plain, participated in simulation training with her team. This helped them make positive changes to their unit environment and workflow. For example, they reorganized the trauma room and implemented an intubation checklist and kit.
"During this exceptional time, particularly in the early weeks of the pandemic, uncertainty and fear were significant issues within our healthcare team," says Cotton. "My perception is that running simulations aided in mental preparedness."
Dr. Colleen Kjelland, emergency physician at the Royal Alexandra Hospital, also found simulation training of value for her team during this uncertain time.
"Patient safety was, and always has been, our primary consideration. With COVID-19, we not only had to figure out how to treat affected patients, but we also had to do this with the necessary protection for ourselves as healthcare workers."
As a result, her team developed contingency plans, should resources become limited.
Participants agree that working together is more important than ever. All key clinical and non-clinical team members take part in the training so everyone can learn together.
For example, in the emergency department this includes emergency medical services, physicians, nurses, respiratory therapists, leaders, protective services, infection prevention and control, and environmental services. This allows all teams to be integrated into the stages and procedures of treating a patient.
While team responses and procedures may vary from department to department, many of the key learnings of eSIM training are the same for all.
"Multiple findings relate back to the importance and problems related to personal protective equipment (PPE) in the care of patients. We must continue to focus on the fundamentals of PPE especially when our people are tired . . . that's when mistakes happen," says Dr. Grant.
"Of course, just like everyone else, we must continue to focus on proper hand washing and physical distancing as much as we can. If we can do this and keep the surge under capacity, our teams are in great shape to handle this evolving pandemic."
Simulation Week runs Sept. 14–20. Learn more about working with eSIM.