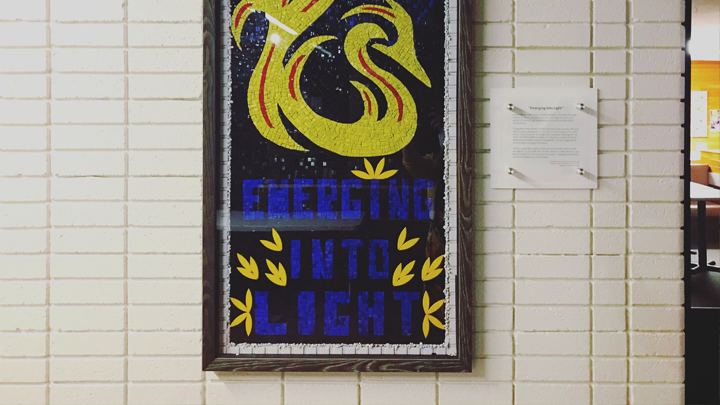 Art holds an important place at Alberta Hospital Edmonton. This Emerging Into Light mosaic, crafted by patients, now hangs in the hospital's central hub area by the cafeteria. Made of vitreous glass, the mosaic helped patients work through problem-solving and develop coping strategies. It's also a symbol of recovery and resilience — as it aims to bring mental illness out of the darkness and into the light.
Alberta Hospital Edmonton patients craft glass mosaic to inspire healing
Story by Vanessa Gomez | Photo provided by Alberta Hospital Edmonton
Wendy Yaremkevich, a therapy assistant at Alberta Hospital Edmonton (AHE), first came across the Emerging into Light symbol while doing research on the benefits of expressing emotions through art.
Since its creation two decades ago, Jennifer Osborn's original artwork, Emerging into Light, has inspired many. It's a symbol of recovery and resilience and aims to bring mental illness out of the dark and into the light.
As a former consumer of mental health services, the talented Osborn wanted to express her journey through art and created the image, which the Canadian Alliance on Mental Illness and Health formally endorsed in 2000.
Keeping the above in mind, Yaremkevich decided to give her patients at AHE a meaningful challenge by having them recreate the celebrated image as a glass mosaic.
"The piece provided a challenge for them," says Yaremkevich. "It was a layered and intricate task which helped them learn how to focus on one thing at a time."
The piece helped patients focus on math and problem-solving as well as practise coping strategies whenever they felt frustrated with the mosaic — with some going for a walk to take a breath and then coming back with a new outlook — which are all skills they can carry over to everyday life.
Patients cut and shaped the vitreous glass, then assembled it in puzzle-like fashion. It also took dedication over the six-and-a-half years the 11 participating patients worked to complete the art installation.
The first client to work on it created the intricate template and added red streaks throughout the piece — symbolizing brain waves — while other patients also added their own unique twist.
The art room at AHE also serves as a sanctuary for patients looking to escape the hustle and bustle of hospital routines. The space is open and colourful, with bright lights and abundant plants and greenery. Other available art activities include crocheting, embroidery art, bead work and painting.
The recreated Emerging into Light now hangs in the AHE central hub area by the cafeteria, not far from a new graffiti wall — part of the hospital's use of art to create a more welcoming and engaging environment to inspire all.
"There's a sense of accomplishment for patients when they get to participate in art activities they've never tried before," says Yaremkevich.
"Some people finish a piece and say 'I've never done this before!' and their eyes light up. It gives them a boost of self-confidence."