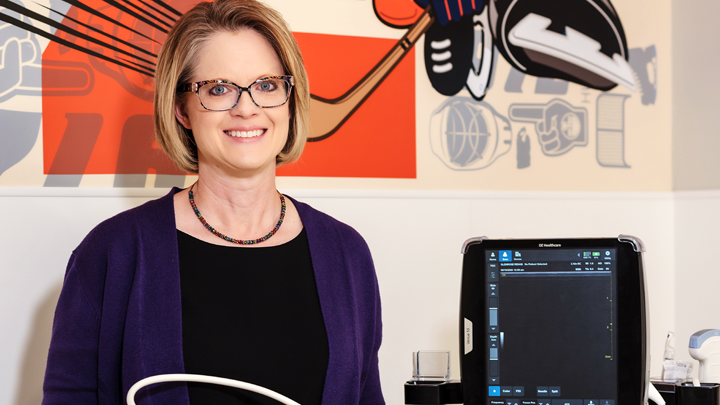 Nurse Practitioner Corinne Huedepohl of the Glenrose Rehabilitation Hospital has been recognized as a Nursing Hero by the national publication Hospital News.
Glenrose nurse practitioner recognized as Nursing Hero by Hospital Week
Story by Sharman Hnatiuk | Photo by Raylene Pearson
Corinne Huedepohl, a nurse practitioner (NP) at the Glenrose Rehabilitation Hospital, recently placed second in this year's Nursing Hero Awards, sponsored by the Hospital News. The awards recognize nurses across the nation who go above and beyond for their patients, and in Huedepohl's case, for their profession.
In 2017, Huedepohl, who works with the Tone Management Service for Children, became the first NP in her field across Canada to receive privileges to independently inject botulinum toxin — more commonly known as Botox — for children under anesthesia in an operating room.
Huedepohl's pioneering journey began when her Glenrose team set a goal to improve service delivery by increasing access to care for children who live with pain related to spasticity and dystonia. The program's patient population includes children with diagnoses of cerebral palsy, spastic paraplegia, spastic quadriplegia, spastic hemiplegia/monoplegia, and acquired brain injury, as well as other neurodevelopmental disorders.
"Our team identified an opportunity to address physician caseload and operating room limitations by challenging my nurse practitioner role to administer Botox independently," says Huedepohl.
An education plan to build her knowledge and skills was designed and completed over 18 months. After completing her education plan with the team's physicians, a job addendum and improvement charter was drafted and signed by Alberta Health Services (AHS), Stollery Children's Hospital and Glenrose senior management and shared with relevant stakeholders.
"Corinne stepped forwards to meet the need for more timely care for our patients, committing to a nearly two-year education plan, despite the potential risk that, being the first, independent practice providing injections might not be approved," says Dr. John Anderson, Facility Chief of Child Health at the Glenrose.
"She has brought to our team a valued approach and perspective as a nurse practitioner which has improved system efficacy and access to services," says Dr. Anderson, "but more importantly improved how we make patients and parents partners in their care, how we deliver care compassionately around stressful procedures, and ultimately how we are better in treating a child's pain."
Thanks to the changes to Huedepohl's role, children experiencing pain are no longer limited by individual physician operating room time and can now access treatment in a more timely manner.
Today, Corinne performs and supports 50 to 60 per cent of monthly spasticity treatments in the operating room on patients between the ages of 3 to 17. On average, 95 per cent of procedures are completed within the ideal window — and wait times have been reduced for focal spasticity treatment for pediatric patients.
As for the $1,000 prize that comes with the award, Huedepohl intends to buy an iPad to donate back to her patients at the Glenrose.
"I am so humbled and honoured to receive the recognition, but I feel this is a team achievement and not mine alone," says Huedepohl.
"I feel it is our patients and their families who are the real heroes."