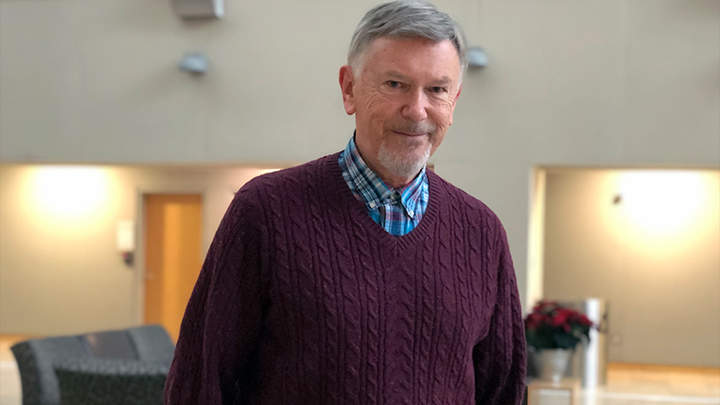 Larry MacKay is a volunteer with the Better Choices, Better Health chronic-pain workshop in Edmonton. It's his way of giving back to the community as he empowers individuals to live their lives to the fullest. This six-week AHS program offers workshops on topics such as pain management and the Move Easy program, as well as tips on how to communicate effectively with family members, friends and healthcare providers.
Better Choices, Better Health helps participants rise above chronic health challenges
Story & Photo by Vanessa Gomez
After retirement, Larry MacKay wanted a meaningful way to give back to the community. For more than a year, he's been a volunteer with Better Choices, Better Health, a chronic-pain workshop that provides a caring, welcoming environment to help individuals cope with their health issues.
"I wanted to help people live a fuller life as they deal with their chronic pain," says MacKay. "I like getting to know new people and helping them on their journey." And MacKay has walked in their shoes.
McKay, 73, became familiar with chronic pain after his wife's hospitalization in 2015 due to a fall. She was diagnosed with myotonic dystrophy — a form of muscular dystrophy — seven months into her hospitalization, which helped McKay realize some of the things she was dealing with.
"For years she dealt with back pain and wasn't able to do anything about it," he adds. "If I knew then what I know now, I might have been able to help my wife with what she was dealing with."
Better Choices, Better Health empowers individuals who live with long-term health issues such as chronic pain and diabetes.
This Alberta Health Services' (AHS) program runs over six weeks with a series of workshops led by trained leaders, many of whom live with long-term health issues themselves, or who have experience supporting others with such issues.
Workshop topics include:
Managing pain
How to get a good night's sleep
The Move Easy program (gentle flexibility exercises)
Breathing techniques
How to deal with difficult feelings
Tips for communicating effectively with family members, friends and healthcare providers
The program's group setting also sees class members encourage one another as they make connections.
Sue Goss, who attended the chronic-disease workshop last fall, says she heard about the workshop through a Primary Care Network caregiver.
"I really enjoyed the facilitators," says Goss. "They participated in all the activities, sharing their own successes and hurdles and encouraged the whole group to open up and share."
Making action plans — where participants share their goals and report their progress to the group weekly — proved a helpful tool for Goss.
"The action plan gave me the motivation I needed to make some big life changes. I've already seen instant results — and will definitely incorporate action plans in all aspects of my life."
Self-management actively involves individuals in creating a care plan that motivates them to follow through. When they come up against barriers, self-managers develop the skills to problem-solve, monitor and re-adjust their plans. It can also help to keep individuals out of hospitals and in the comfort of their homes and communities.
"Usually, after a couple of weeks, participants really start to get into it," says MacKay. "They latch on to the concepts and become diligent in trying new things at home. It's great to watch as they get to know each other and encourage each other."
See more information on upcoming Better Choices, Better Health workshops.