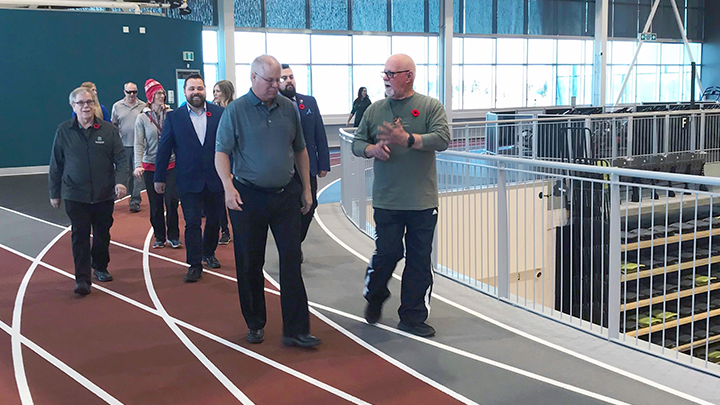 Central Alberta mayors, deputy mayors and reeves gathered in November at the Gary W. Harris Canada Games Centre at Red Deer College to promote active living and raise awareness for Falls Prevention Month.
Central Alberta mayors promote benefits of exercise at annual event
Story and photo by Yolanda Genu
RED DEER — Central Alberta's civic leaders recently laced up and walked the walk to raise awareness about falls prevention during the annual Walk with the Mayors event at Red Deer College (RDC).
Led by members of the Central Alberta Falls Prevention Coalition — of which Alberta Health Services (AHS) is a partner, along with community members and other local walking groups — the Walk with the Mayors exemplifies how staying active can prevent and reduce injuries related to slips, trips and falls.
"Falls are a leading cause of visits to the emergency room," says Dr. Mohammed Mosli, AHS Medical Officer of Health, who participated in the walk. "Injuries caused by falls can be prevented by modifying the environments around us that lead to falls, or by increasing our body's resilience to injuries. Key strategies to prevent fall-related injuries include staying active, building strength, improving balance and eating healthy."
AHS' Provincial Injury Prevention Program data show that the most common reason for a fall injury is a slip or trip on a level surface, while falls related to ice and snow come in second.
Surprisingly, it's not only older adults and young children who are at risk of falls. Middle-aged adults — ages 45-64 — are also falling. Almost 40,000 middle-aged adults sought emergency treatment for all fall-related injuries in 2018. From 2008-2018, there's been a 28.5-per-cent increase in middle-aged, fall-related injuries that require urgent treatment, with fractures being the most common.
Contributing to this rising statistic is the fact that physical deterioration, as well as the loss of muscle mass and balance, begins around age 45, particularly for women. Physical activity and healthy eating are two ways to increase the body's resilience to injuries.
"Adults aged 18-64 are encouraged do at least 150 minutes of moderate-intensity aerobic physical activity throughout the week, at least 75 minutes of vigorous-intensity aerobic physical activity throughout the week; or an equivalent combination of moderate- and vigorous-intensity activity," adds Dr. Mosli.
The Canadian Physical Activity Guidelines recommend two or more 10-minute sessions per day — it can be as simple as a 10-minute brisk walk or a 10-minute session of seated or standing exercises.
In addition to helping to reduce the risk of a fall, physical activity improves mood, sense of well-being and can contribute to social connection. Local walking group Memory Trekkers can attest to that. An Alzheimer Society program for Red Deer residents who live with dementia or support someone who lives with condition, also walked with mayors and reeves.
"Physical exercise and being socially engaged are important activities for maintaining good brain health," says Laurie Grande, Regional Lead, Alzheimer Society.
Both Shelley Dallas-Smith, AHS Health Promotion Facilitator with the Provincial Injury Prevention Program and Sandra Liberty, Manager, Fitness & Wellness Services at RDC and Be Fit For Life, encourage Albertans to challenge their balance by practising the following movements:
reaching while standing
toe and heel raises
stepping in different directions
half squats
using the stairs
Dallas-Smith says the key is to stay active and start incorporating physical activity into your routine. Some activities to consider this winter include yoga, Tai Chi, Nordic walking, swimming, pickle ball, exercise classes, biking, snowshoeing and cross-country skiing.
Albertans can also form or join walking groups in their communities, recreation centres or local senior centres. Locally, the Be Fit For Life Centre at the RDC works with Central Alberta communities to enhance and teach physical literacy and fundamental movement skills to all ages.
See more information about Finding Balance Alberta, Falls Prevention resources and the Canadian Physical Activity Guidelines.