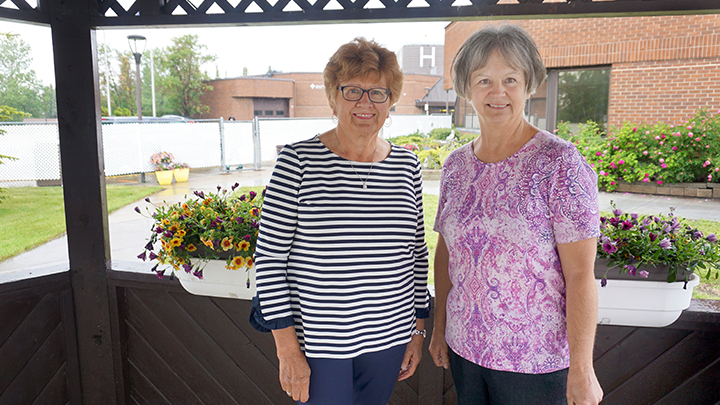 Community volunteers Sandra Meding, left, and Edna Stankievech find shelter from the rain in the newly-refurbished gazebo at Three Hills Health Centre.
New roof, paint, flowers and pathway beautify site, boost accessibility
Story & photo by Tracy Kennedy
THREE HILLS — We've all heard about community members working together at the proverbial barn raising. Here, they've done the same for a special gazebo.
Over the past year, many hands pitched in to restore the aging gazebo and surrounding area at the Three Hills Health Centre, marking the project's completion with cake and celebration on June 21.
Almost 30 years old, the outdoor structure — situated near the long-term care wing — sorely needed a new roof and paint. In addition to these improvements, concrete walkways were poured to increase accessibility, especially for people with mobility challenges. Privacy fencing was also installed, while new flowers added a pretty touch.
"It started with a significant donation from the wife of one of our long-term care residents," says Ruth Wold, site manager at Three Hills. "This led to many community folks making donations and our volunteer groups working overtime."
The Three Hills & District Palliative Care Society and the Three Hills Care Centre Auxiliary Society made significant contributions, including donating the proceeds from a successful community fundraiser called the Tree of Hope. Servus Credit Union also helped out with a grant.
"We are so fortunate and so grateful," says Wold.
It was Melba Kopjar's dream for her husband Andy that really got the ball rolling. When he died in 2016, after two years in long-term care, she wanted a memorial to pay tribute to his love of gardening and the outdoors.
"He loved spending time out there," says Kopjar. "He was the gardener in the family, and he would have loved these flowers. Every spring, he'd bring me the first crocus."
Married for 62 years, Melba and Andy would sit outside and enjoy time to themselves. But it was hard for Andy, in a wheelchair, to get out the door and down the hill. To make access easier, the concrete pathways were widened and extended to form a circle around the gazebo itself.
"He'd be very pleased," adds Kopjar. "He was a farmer, as are most of the people in this area. The outdoors is a big thing to them, as they've lived their life outdoors. So (the gazebo) represents a bit of freedom to them."
Sandra Meding, treasurer of the Three Hills and District Palliative Care Society, credits their successful fundraising to the fact that the hospital touches the whole community.
"There's a good chance that people will need it at some point in their lives," says Meding. "It crosses all barriers, so we found in our fundraising that people were very supportive."
Edna Stankievech, treasurer for the Three Hills Care Centre Auxiliary Society, says her family is thrilled for her uncle, who's in palliative care.
"When it's nice out, we can sit by the flowers and enjoy the sun. He plays cards so we can come out and do that," she says. "Thanks so much to the community for the support."
And the support doesn't stop there. Wold says that everyone at the centre — from Volunteer Services to Facilities Maintenance & Engineering, as well as the families of residents — is taking an active role. Many can't walk by a flower without watering it.
"It's about rural pride and ownership in the site. From residents and families, to staff, volunteers and the community, everyone's played a part," says Wold.
"We are so proud of everyone who's contributed – they have a profound effect on what we can do every day."