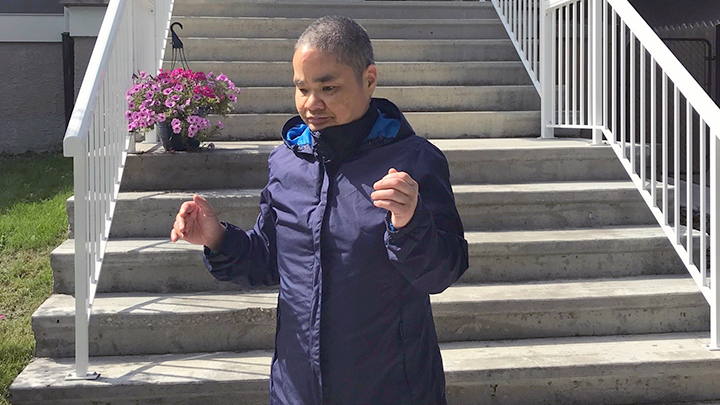 Maggie enjoys a day of sunshine in front of her new home
Aspire Homes shelters individuals with complex needs through partnership with AHS, social services and Homeward Trust
Story by Lisa Pintaric | Photo by Elizabeth Peterson
EDMONTON — Finding a safe and secure home for adults with developmental disabilities and mental health issues can be challenging. For Maggie Mah, who lives with autism and obsessive compulsive disorder, her move to Elmwood Park Home has proven a godsend after years of searching.
The 58-year-old recently moved into a custom-built home from Aspire Homes with 24/7 supports and a wellness-orientated care model.
It's a project designed to help individuals with developmental disabilities, mental health issues and histories of lengthy hospital stays to transition into an appropriate community setting.
"At Elmwood Park, Maggie has been able to do things that she loves such as cooking and household chores. The staff interact with her and go above and beyond to take care of her," says Gaye Mah-Szymanski, Maggie's sister and guardian. "They know her needs and have put her on a program that she responds well to. Maggie seems happy."
Elizabeth Peterson, care manager for Aspire Homes, says the care and programming give residents a meaningful involvement with their community and care providers. "We help our residents develop relationships and give them opportunities to get involved, whether that's in the house with staff or with other residents."
Aspire Homes is the creation of three partners who collaborated to build support homes in the community — Alberta Health Services (AHS), the Government of Alberta, and Homeward Trust Edmonton, a not-for-profit organization committed to ending homelessness. The program provides clinical supports from a variety of addiction and mental health programs, and also promotes community integration as it strives to meet the distinct needs of its residents.
Mah isn't always able to effectively communicate her own wants and needs. Prior to living at Elmwood Park, she spent eight years at Alberta Hospital Edmonton, where she received psychiatric rehabilitation. While the hospital environment supported her, she didn't flourish, spending much of her time in her room.
Since moving to the new Elmwood Park Home, Mah is now enjoying a richer and more interactive experience.
"Maggie has a higher quality of life since she's moved," her sister adds. "The staff at Elmwood Park know her needs and recognize if she's agitated — and they know how to calm her down if something happens. Often, they'll catch a behaviour before it becomes an issue."
Support for all residents at Elmwood Park Home includes trained staff and therapists, along with 24-hour monitoring. Mah participates in activities as well as walks in her new community.
Built in a residential neighbourhood, the Elmwood Park Home also has extra safety features — security modifications such as window and door alarms, a water-sprinkler system and built-in furniture. To date there are three Aspire Homes in Edmonton, each with accommodation for five residents.
Aspire Homes recently won the Recognizing Outstanding Organization and People in Housing from Homeward Trust, in recognition of the positive difference the program is making in the lives of their clients.