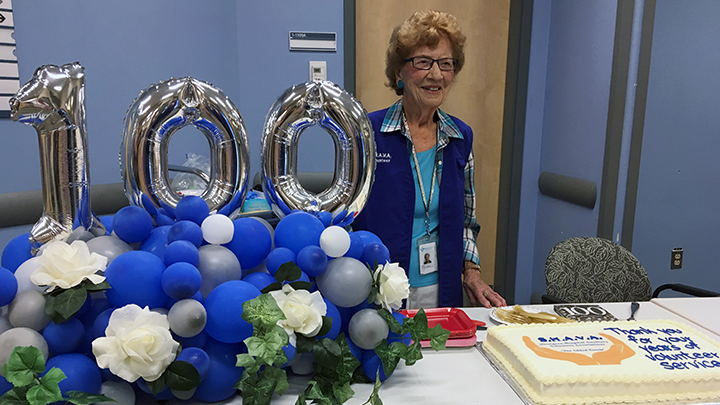 Anne Bordeleau celebrates her 100th birthday and 46 years of volunteering at the Sturgeon Community Hospital. A special surprise party was put together by volunteers, with guests including Dr. Verna Yiu, President and CEO of Alberta Health Services.
Numbers tell a tale of giving back
Story by Vanessa Gomez | Photo by Sharman Hnatiuk
You'd think that after living a full century, little would surprise longtime Alberta Health Services volunteer Anne Bordeleau.
But she was shocked when a surprise birthday celebration in her honour was held at the Sturgeon Community Hospital on Aug. 6 and attended by more than 60 people, including Dr. Verna Yiu, AHS President and CEO; Cathy Heron, Mayor of St. Albert; Marie Renaud, MLA for St. Albert; Dale Nally, MLA for Morinville-St. Albert; and hospital staff. Guests enjoyed three birthday cakes and seeing photos of Bordeleau's early days as a volunteer.
"I just can't get over it," Bordeleau says. "This is lovely."
And although she insists her age is "only a number to me," the numbers in her life are impressive.
Bordeleau, who turns 100 on Aug. 10, has been volunteering with the Sturgeon Hospital Auxiliary Volunteer Association since 1973, putting in more than 10,000 hours.
It's an accomplishment for which Dr. Yiu is grateful.
"Thank you for the 46 years and more than 10,000 volunteer hours," Dr. Yiu says. "I don't think we could do what we do if not for the commitment and dedication of our volunteers."
Bordeleau now works in the hospital's gift shop. But over the years, she has run the patient cart, raised funds for the auxiliary, and trained new volunteers.
"Volunteering at the shop has given me the incentive to get up in the morning, get dressed and meet people," she says. "Everybody treats me very well and I care for them all."
That sense of caring is returned in full.
"We are so pleased to help Anne celebrate her very important 100th birthday," says Betty-Lynn Zukewich, coordinator with Volunteer Resources. "Anne has been fortunate to be blessed with good health and we have been grateful to have her here with us every Tuesday morning for the past 46 years. Anne's commitment to our hospital is remarkable and admirable and we are so happy to be able to share in her big centenarian year."
And Jackie White, friend and fellow volunteer, has fond memories of working with Bordeleau.
"My earliest memory of Anne was from the first gift shop in the original hospital," White says. "We worked with a pencil, pen and calculator. We have since graduated to a cash register and debit/credit card machine, but Anne has always mastered all of these new changes and always remains positive. Customers just love her."
Bordeleau says she gets as much from volunteering as she gives.
"I always look forward to Tuesday mornings," she says. "I love meeting people."