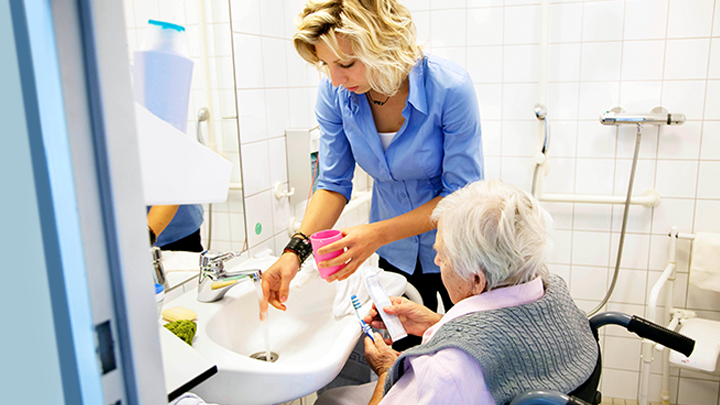 Oral Hygiene Policy promotes good oral health at any age
For older adults, brushing their teeth can be difficult or even impossible because of physical changes or challenges with memory. Continuing care staff often need to assist older adults in their care with keeping their teeth clean.
Leon, a continuing care resident with multiple sclerosis, recently began getting help with his oral hygiene.
"I remember a time when I would choke and gag as I tried to clean my teeth," says Leon. "Thanks to help from staff, it's no longer such a chore."
Appropriately trained staff are able to help residents keep good oral hygiene and help prevent oral diseases that may lead to secondary health complications.
"Having the help I need is so nice," adds Leon. "My gums bleed less, my teeth feel clean, and I'm not worried about bad breath when I talk to others."
Cindi de Graaff, Provincial Oral Health manager with Alberta Health Services (AHS), says that oral hygiene is essential to the maintenance of overall health and well-being.
"To ensure all continuing care staff know how to effectively help residents, AHS launched an oral hygiene policy for Continuing Care Designated Living," says de Graaff.
"The policy provides a framework for training healthcare providers in the provision of oral hygiene, for adult patients."
De Graaff says the reactions her team receives from staff after training are often ones of surprise at the link between a clean mouth and general health. Others point out how well staff are able to use the skills they learn to help clients brush their teeth. Many staff also found that they use these same skills for other types of care.
"A healthy mouth helps people enjoy their food, chew better, socialize and avoid pain and tooth loss," she adds.
"Good oral health can also decrease the health risks associated with heart disease, respiratory illness, diabetes and cancer."
Overall, Leon says he feels life is better, and enjoys mealtimes and the close company of family and friends.
April is Oral Health Month and AHS is focusing on good oral health at any age. As you get older, your mouth health can be affected by aging, diseases, or medicines you take. Prevention is the best way to keep your mouth healthy at any age. This includes brushing and flossing every day and visiting the dentist regularly. A healthy mouth is important for a healthy body and mind. Grow older with good oral health. Learn more.