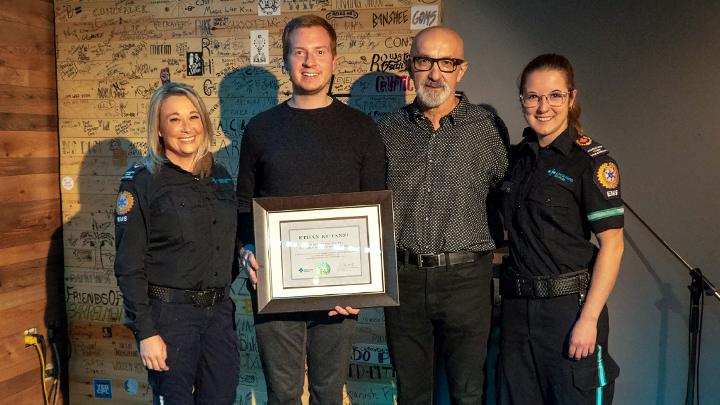 Dragomir Vujnovic sponsors fundraiser, thanks good Samaritans who performed CPR
Story by Amelia Schofield
EDMONTON — A man whose life was saved with help from good Samaritans recently paid it forward by hosting a fundraiser to say "thank you".
As a passionate runner and cyclist, Dragomir Vujnovic has participated in marathons, team ultramarathons and has even biked over 200 kilometres to raise funds for cancer research. On Oct. 5, Vujnovic was running in Emily Murphy Park when he suddenly collapsed from cardiac arrest.
Moments later, three strangers stopped to see what happened and began resuscitating him using CPR until EMS came. Vujnovic was rushed to hospital where he received care at the Mazankowski Alberta Heart Institute. Luckily, he survived the experience and continued receiving medical care for two weeks.
"The first part when I was in intensive care was really hard, but I was hearing from my friends and my kids that they (the healthcare staff) were really great, really happy and keeping them up to date," he says. "They were really taking great care of me — from the doctors, to the nurses, to all the staff there. It's amazing."
Vujnovic continues by sharing his gratitude for those individuals who stopped to help him in the park.
"When I woke up, the doctors were saying I was really lucky that I had people near me the moment I collapsed — and that they actually started doing CPR — because it was critical," he adds. Shortly after leaving the hospital, Vujnovic and his family decided they wanted to locate the good Samaritans who helped save his life.
"I wanted to try and get in contact with those people if it was possible, so we decided to talk to Global News," he says. "Luckily, the girlfriend of one of the people who gave me CPR saw the story."
That person was Ethan Kutanzi, a medical student at the University of Alberta, who was travelling through the park that day on a motorcycle. When he saw the commotion, he stopped and helped Vujnovic.
To express gratitude towards Kutanzi and the others who helped save his life, Vujnovic and his family hosted an event on Nov. 22 to raise funds for the University Hospital Foundation, in support of the Mazankowski Alberta Heart Institute. At the event, EMS presented Kutanzi with the Citizen Lifesaving Award for helping Vujnovic in the park that day.
"Bystander CPR is one of the critical steps in the cardiac arrest Chain of Survival. Every minute a patient goes without CPR, their chances of survival go down dramatically," says Alex Campbell, EMS
Public Education Officer for Alberta Health Services. "Dragomir's excellent outcome was very likely due to the heroic efforts of the strangers that stopped to help." Vujnovic says he's incredibly thankful to Kutanzi and the other individuals who gave him CPR that day.
"These three good Samaritans are really my heroes and I'm grateful that they were willing to help. In this world where everyone is busy, it was really great for them to stop. I was lucky."
If you would like more information on how to support the University Hospital Foundation, please visit givetouhf.ca.
Visit ahs.ca/give for a full list of Alberta's health foundations.