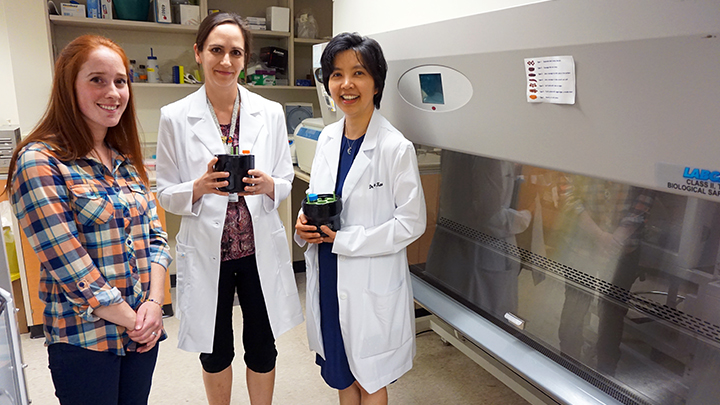 For its skill in beating deadly infection, Fecal Microbiota Transplantation Team receives 2016 President's Excellence Award for Outstanding Achievement in Innovation and Research Excellence
Story by Greg Harris
It would be tempting to dismiss Fecal Microbiota Transplant (FMT), which in the plainest terms is the transfer of one person's poop to another, as a fringy novelty procedure best avoided in polite conversation.
But if you're like 28-year-old Carly Hallam, who was rescued from a potentially life-threatening clostridium difficile (C. diff) infection, it's something to shout about. In early June, Hallam underwent an FMT performed by Edmonton physician Dr. Dina Kao.
"Dr. Kao is my hero and will be for the rest of my life," Hallam says of the gastroenterologist who, with her FMT team, is this year's recipient of AHS' President's Excellence Award for Outstanding Achievement in Innovation and Research Excellence.
"I had lost all hope, but she has given me my life back."
Since 2013, Dr. Kao and her team have helped more than 600 Albertans with these antibiotic-resistant infections regain their health. In the process, they've established Alberta as the national leader in bringing FMT to the mainstream.
With a 93-per-cent cure rate for C. diff infections, FMT is not only improving the lives of patients, it's saving the healthcare system many hundreds of thousands of dollars in costs associated with managing C. diff.

"There are so few things in medicine where you can say the cure rate is over 90 per cent," says Dr. Kao. "Working with FMT is without a doubt the most rewarding thing I've done in my professional career."
"We were so honoured to be nominated for the President's Excellence award. And then to go on and be selected, well, it's a bit of a validation for us."
Edmonton's FMT program has been funded up to this point through the generous support of the LeRoy Sonnenberg family. (LeRoy is one of Dr. Kao's early FMT patients.) In part that allows for the maintenance of a stool bank, as well as the appointment of a part-time FMT nurse navigator, Brandi Roach, to assist patients through the process. AHS will start to fund the Edmonton clinical program in July 2017.
Dr. Kao adds she's working with AHS and her counterparts in Calgary to help create a sustainable FMT program for southern Alberta, as well. There are frozen stool banks in both Edmonton and Calgary, along with screening and stool processing protocols to offer FMT on demand.
The idea behind FMT is to restore the healthy balance of bacteria living in the intestine. We are host to hundreds of different species of gut bacteria, which together help the digestive and immune systems to function properly.
However, when a harmful infection requires treatment with antibiotics, those same antibiotics can disrupt the healthy balance of the gut bacteria, thus allowing opportunistic microorganisms like C. diff to move in and cause illness.
In Hallam's case, her problems began shortly after she was placed on antibiotics for strep throat. Although she recovered from the strep infection, she subsequently became ill with C. diff After two courses of treatment with antibiotics for that — and two relapses — her physical condition greatly deteriorated.
"I wound up losing about 20 pounds and was basically trapped in my home," says Hallam. "I had no energy and no appetite. Mentally, it's a horrific illness to have — I felt like I was dying."
People with C. diff infections suffer from diarrhea, cramping and other gastrointestinal difficulties. In advanced cases, it may be necessary to remove the large intestine. And in the roughly 200 cases of C. diff seen in Alberta every year, about 20-40 are fatal, Kao estimates.
Hallam says she began to notice improvements not long after she underwent the endoscopic procedure (similar to a colonoscopy) which delivered the healthy, balanced fecal microbiota to her system. "I actually woke up from that and I was hungry," she recalls.
Calgary FMT co-lead Dr. Thomas Louie pioneered the development of an FMT pill, a less-invasive delivery method. Drs. Kao and Louie just completed a study, funded by AHS, showing that the pills are just as effective as endoscopy. Research trials are also underway that are looking at the effectiveness of FMT in treating inflammatory bowel disease, as well as liver cirrhosis.
"This has been such a journey for me personally and professionally," Dr. Kao says. "I have learned so much from my patients. It's the best-case scenario when you can provide good patient care that's integrated with research."
The President's Excellence Awards recognize and celebrate the dedication and accomplishments of AHS staff, physicians and teams. Award recipients demonstrate exceptional collaboration, innovation and a commitment to quality improvement and patient care.
Meet the FMT team
Dr. Kao says her colleagues deserve much praise for making Alberta's Fecal Microbiota Transplant (FMT) program the most advanced in Canada.
In particular she credits Calgary physician and co-FMT lead Dr. Thomas Louie for first introducing the procedure to Alberta in the mid-1990s.
Other FMT team members include:
Physician collaborators: Dr. Karen Wong and Dr. Lynora Saxinger
Nurse navigator: Brandi Roach
Research associates: Karen Madsen and Marisela Silva
The program also wouldn't be successful without lab technicians, support staff and volunteer stool donors.