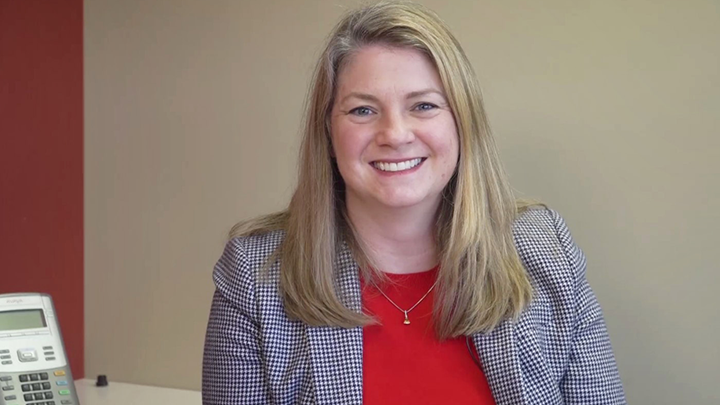 Jodi Glassford, Provincial Director, Access Improvement with AHS, says eReferral is helping improve the patient journey and make it easier for clinicians to share patient information..
Referral management system grows to support 27 specialties
Story by Angela Unsworth
What started as a dream is now a reality. eReferral, an automated referral management system, is helping clinicians transform how referrals are being managed for patients across Alberta.
"Traditional methods of referral like fax, mail or phone, can get lost in transit, go missing or don't end up where they are supposed to," says Jodi Glassford, Provincial Director, Access Improvement with Alberta Health Services (AHS).
"This can cause unnecessary patient delays and has the potential to impact a patient's health outcome. eReferral is here to help solve these issues."
eReferral is AHS' first online referral system that allows physicians and clinical support staff to create, submit, track and manage referrals electronically. Started in 2014 with three early-adopter groups, eReferral has grown to support 27 specialties across the province with Advice and Consult Requests. In early 2019, received its 30,000th request.
"Advice Requests support patient care in the community," Glassford says. "Within five calendar days, physicians can receive advice from specialists, and in about 46 per cent of these cases, can continue to manage their patients in their medical home avoiding an in-person specialist appointment."
Consult Requests are requests for in-person specialist appointments. In May, three new specialties joined Consult Request including Interventional Pulmonary Medicine, Sleep Medicine and Tuberculosis Services in Calgary Zone.
Work is also underway to simplify requests from community electronic medical records (EMRs).
Earlier this year, eReferral worked with the community-based EMRs TELUS MedAccess and Accuro to add the QuRE consultation/referral request and response referral form to these systems.
Once the form is completed, users can simply print as a PDF file which can then be attached to an eReferral Advice Request, Consult Request or mailed/faxed to specialty clinics. TELUS Practice Solutions and TELUS Wolf, two other EMRs, will also introduce the template to their EMR users in summer 2019.
"The QuRE consultation/referral request and response template supports leveraging the information already in primary care EMRs and includes a clear clinical question to support triage," Glassford explains. "This is a huge accomplishment as these referrals will now be consistent with the referrals that are being created using eReferral."
eRefferal has also been an important tool for specialists, helping them get a clearer picture of their patient's journey.
"eReferral fits well into the workflow," says Nephrologist Dr. Chandra Thomas. "I'm able to see a patient's information, attach relevant articles for other physicians to review and provide additional information to the family doctor."
For more information visit eReferral online, or email the Access Improvement team at access.ereferral@ahs.ca.