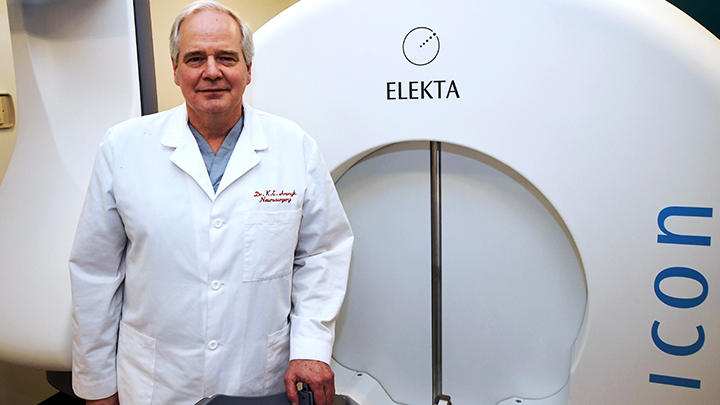 New brain surgery device offers scalpel-less procedures at University Hospital in Edmonton
Story by Alex St. Cyr
Neurosurgeons can now treat brain tumours without the pain and physical invasiveness associated with traditional brain surgery, thanks to a combined MRI and Radiosurgery Facility at University of Alberta Hospital (UAH).
The stereotactic radiosurgery device – known as a Gamma Knife Icon – is the first of its kind in Western Canada and one of just five in the country. Using 192 beams of cobalt radiation, the device allows neurosurgeons/radiation oncologists to execute precise brain surgery in a scalpel-less, non-invasive procedure.
"The intense radiation is focused on a patient's brain from the outside, eradicating cancerous tissue and even reducing benign tumours without negatively effecting the healthier brain cells. It allows us to perform one out-patient procedure, with no extended hospital stay required," says Dr. Keith Aronyk, Clinical Department Head of Neurosciences with Alberta Health Services (AHS).
Dr. Aronyk says that the device will mean faster recovery, no extended hospital stays and improved outcomes for patients with brain tumours.
"There's no incision. There's no operation. So there's no anesthesia, it's an out-patient treatment. You're in in the morning, you have your treatment, and you're home that afternoon. It's almost miraculous. When I see them walking down that hallway and heading home that evening for dinner, after having had an acoustic neuroma or trigeminal neuralgia treated, it thrills me."
Located at the Scott and Brown Families Advanced Imaging and Gamma Knife Centre, the device was named for the families from their $3 million gift, donated by long-time friends Jim and Sharon Brown and Guy and Shelley Scott. Additionally, partnerships between UAH and Calgary Zone's Alberta Radiosurgery Centre proved to be instrumental in the development of the program and working together to ensure that Albertans get the appropriate type of radiosurgery for their condition.
The device came online on December 4, 2017, and in its first three months has treated 80 patients. It is on pace to complete 312 procedures this year.
To receive this treatment, patients must be referred to the Gamma Knife Clinic, and after deciding if the patient qualified for the procedure, and a brief conference with the patient to discuss the procedure, most patients receive treatment within one to four weeks depending on urgency and severity of their condition.
"Once referred from their physician, we meet with them as soon as we can to determine the severity of their condition and if the gamma knife is necessary. If it's what the patient needs, sometimes we get them booked for less than a week away."
As part of the greater Brain Centre Campaign, which has been working towards building a world-class Brain Centre in Edmonton, opening an advanced Stereotactic Radiosurgery (Gamma Knife) location is just one step. Since 2012, the Brain Centre Campaign has raised more than $50 million and has been building towards their ultimate goal at the UAH in Edmonton. With the addition of the 3T MRI, the Brain Centre will be capable of providing a new level of precision from the research stage, through diagnoses and operations. Dr. Aronyk says that he and his team are focused on surgical innovation and providing a safer experience for patients. To learn more about the Brain Centre Campaign, please visit https://www.universityhospitalfoundation.ab.ca/braincentre/home.
"As Alberta continues to innovate and advance, it is important to recognize the accomplishments of our medical staff and facilities as they move towards providing safer care to patients. Dr. Aronyk and his team are continuously moving forwards and inspiring other physicians to take the next step towards advancement and break-through," says, Dr. Francois Belanger, Chief Medical Officer of Alberta Health Services.