December 2, 2021
Meet Sawyer
Can you tell us a bit about your role?
Sawyer: Currently, I am a Therapy Assistant working mostly at the Westlock Health Care Centre. I work in the areas of physiotherapy and occupational therapy, primarily in the orthopedic unit. The majority of my work is with patients who have had joint replacements, fractures, or falls.
Strengthening through exercise programs and mobilizing the body to achieve safe and functional movement are the main goals in the physiotherapy aspect of my job. My role in occupational therapy is predominantly with equipment and ensuring mobility devices such as walkers, wheelchairs, and crutches are well fitting and in good condition.
What made you want to work at AHS?
Sawyer: I started volunteering at Westlock Continuing Care Centre in my early teens and found I enjoyed working with the residents and staff there. In my early years of volunteering — followed by high school work experience — I had many opportunities to explore different disciplines and find where I fit best.
What are you most passionate about in your role?
Sawyer: I'm passionate about working with patients and residents to help them meet their goals, and to personalize their care and recovery. It can be very easy as a therapy assistant to slip into a pattern of always doing the same set of exercises in the same order. I love being able to take a treatment and personalize it for my client. For example, doing the exercises to a favourite song and in the order my patient prefers.
Creative problem solving is another favourite part of my job. As a disabled person, I have had to become adaptable and learn how to navigate a world that is not always accessible to all of us. The skills I have developed in my work translate well when trying to teach a client a new way of doing things, or when adapting work equipment.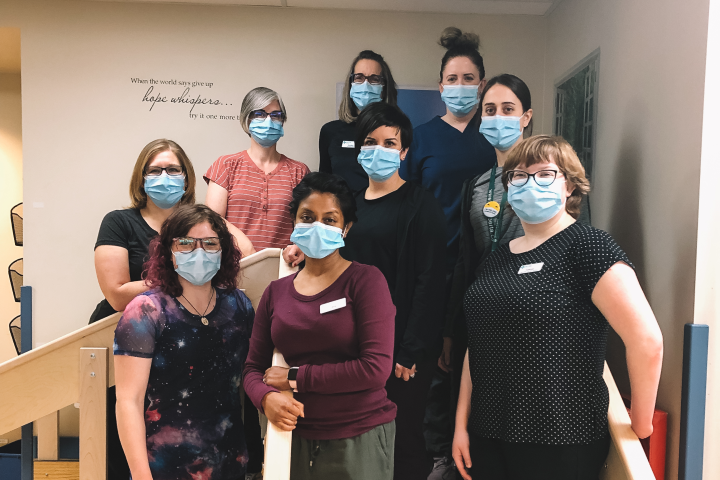 What support has AHS provided to help ensure your success?
Sawyer: I'm so thankful to work in a department that's so supportive. My co-workers have been very flexible and eager to discuss and integrate practices that are more accessible for me. For example, they know that if I need to hold the transfer belt and walker, then it is most accessible for me to be on the client's left. If I need to hold the transfer belt and pull the wheelchair, then it is most accessible for me to be on the client's right.
Early on in my current position, I wanted to make sure that my co-workers knew that I could adapt quickly in any situation and would not slow the team down (stigmas of disability that, while they may by unfounded, are still very prevalent in the workplace today). I was nervous about prompting a conversation about accessibility for fear of being seen as burdensome, and so was very grateful when my colleagues brought up the topic. They approached the conversation in an open-minded way and I felt we could have an honest conversation about what makes a space or process most accessible for me without fear of punishment or judgment. It was through these conversations that we made plans for what works best for all and, after just a few weeks, the dynamics became natural. Because of their ongoing support, I feel affirmed that I am an efficient and safe worker.
I was very lucky to land in the department I did, with co-workers who are thoughtful, flexible, and approachable, but I know this is not the case for all disabled employees. Resources and education on accessibility and ableism can help create consistently supportive environments and teams. We need teams who believe accessibility is a basic requirement rather than a gold standard, who are confident in recognizing and combatting ableism, and who are willing to put in the work to dismantle systems of oppression. There is no way to have a safe and supportive environment for disabled employees without teams who are committed to those values.
What advice would you give to other individuals with disabilities who may want to work at AHS?
Sawyer: Be prepared to advocate for yourself. Accessibility is not always prioritized at AHS (as with almost every organization) and while improvements have been made in the area, there is still a long way to go.
What advice would you give to leaders when hiring and managing individuals with disabilities?
Sawyer: The best advice I have for leaders who are hiring and managing employees with disabilities is to be open to learning and making changes. Most people feel at least a little awkward about disability, but this discomfort is not an excuse to avoid it — it should be the opposite. By educating others and ourselves about disabilities, everyone becomes more at ease and safer.