Intensive Care Unit (ICU) Capacity
AHS continues to do all it can to ensure we have enough ICU capacity to meet patient demand, including opening additional spaces and redeploying staff.
We currently have 322 ICU beds open in Alberta, including 149 additional spaces. AHS has opened 49 additional ICU surge spaces in the past seven days.
There are currently 260 patients in ICU, the vast majority of whom are COVID positive.
Provincially, ICU capacity (including additional surge beds) is currently at 81 per cent. Without the additional surge spaces, provincial ICU capacity would be 150 per cent.
The number of patients in ICU has increased by 13 per cent in the past seven days.
Approximate Average Annual Historical Hospital Occupancy
The table below shows the historical annual occupancy of beds in all five zones since 2018. AHS uses this information to monitor, manage, and adjust the number of beds across the province based on factors like – seasonality, the availability of health care workers and other emerging issues.
Historical occupancy is important because many times a reduction in the number of beds does not directly impact on patients or a community because, even with a temporary reduction, there are more beds available than there are patients who need them.
The table shows that pre-COVID-19, 93% of beds were occupied in 2018 and 92% in 2019. In 2020 the total number of beds occupied by patients dropped to a low of 86% as the system purposely held beds to be able to respond to the needs of patients with COVID. The average number of beds occupied by patients in 2021 to date is 90%. Currently, 98% of acute care beds are in operation and 97.1% of emergency department spaces are in operation across the province.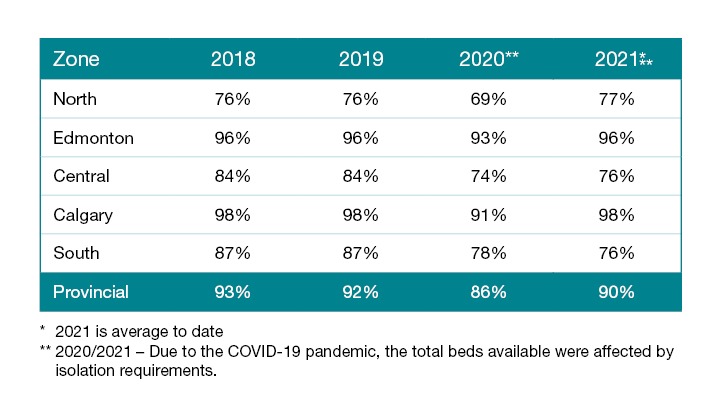 Recruitment & Retention is Always a Priority
The COVID-19 pandemic has had an impact on staffing because of the need for redeployment and a depletion of the available pool of casual staff. This isn't just an AHS phenomenon. This happened in health systems across Canada during the pandemic.
AHS is constantly working to address staffing levels at our sites – and as staff vacancies are filled, beds are reopened.
Over the last year, AHS has filled more than 1,000 vacancies for registered nurses. There are approximately 1,700 more RNs working in AHS today than in 2019.
AHS is pursuing recruitment strategies that aim to fill existing vacancies by the end of August or September, earlier if possible. The redeployment of staff working on the response to the pandemic will help AHS to fill vacancies.
This all helps to ensure the healthcare system is safe – and there for those who need it.