AHS is one of three entities within the Ministry of Health, delivering a broad range of healthcare on behalf of government, and in accordance with the mandate set by government.
AHS is organized into five geographic zones: South, Calgary, Central, Edmonton and North. Zones enable local decision-making and enhance our ability to listen and respond to local communities, staff members, patients and clients.
AHS and its many health service delivery partners, including Covenant Health, physicians practicing in community, allied health professionals, pharmacies, local governments and Indigenous communities, work together to deliver high-quality healthcare to Albertans as well as to some residents of Saskatchewan, British Columbia and the Northwest Territories.
In 2021-22, AHS was recognized as one of Alberta's Top Employers and Canada's Best Diversity Employers. This success can be attributed to the dedication, collaboration and hard work of our staff and volunteers. AHS is proud to be recognized for supporting our people and creating workplaces where everyone feels safe, healthy, valued and included, and able to reach their full potential.
Workforce & Volunteers
AHS has more than 112,300 direct AHS employees (excluding Covenant Health and other contracted health service providers) and more than 13,000 staff working in AHS' wholly-owned subsidiaries, such as Carewest, CapitalCare Group and Alberta Precision Laboratories.
AHS is also supported by more than 11,000 independently practicing physicians, approximately 9,000 of whom are members of the AHS medical staff.
Similarly, AHS is supported by nearly 140 midwives on the AHS midwifery staff who provide care both in the community and in our facilities.
Volunteers play an integral role in fostering environments that support patient- and family-centred care. AHS' 9,100 volunteers contributed more than 492,000 volunteer hours this past year to help keep Albertans safe and healthy. Among their many contributions, volunteers manage patient visits, give input as advisory council members to improve the quality and safety of healthcare, assume wayfinding roles and tend retail shops to raise funds.
Facilities & Beds
AHS programs and services are offered at more than 900 facilities throughout the province, including hospitals, continuing care facilities (including long-term care, designated supportive living, community palliative and hospice, and contracted care sites), cancer centres, addiction and mental health facilities, and community ambulatory care centres. All facilities and programs are operated in compliance with relevant legislation.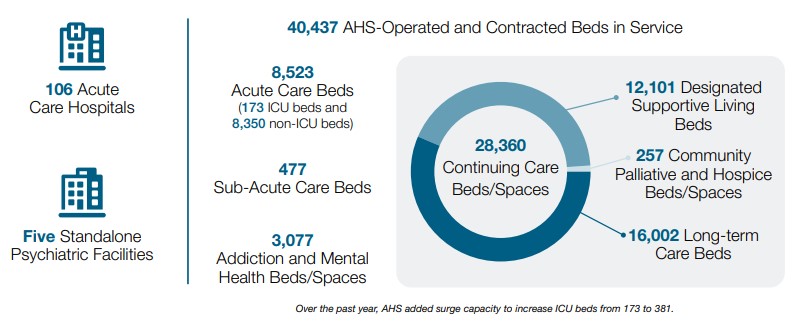 Alberta Demographics