Receiving Home Care
Enhancing Care in the Community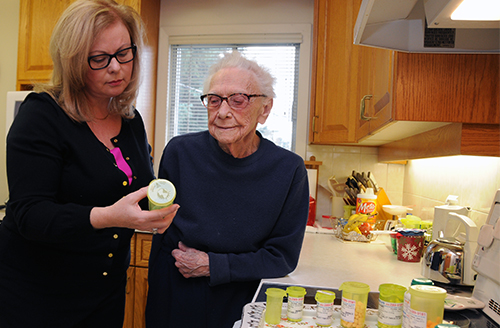 Being diagnosed with any life-changing disease can take its toll on patients and their families, especially if that diagnosis changes how you interact in and with your surroundings.
In many cases, the level of care required may be more than a family can provide.
For Jaye Fredrickson - who was diagnosed with ALS about 10 years ago - her level of care changed as time progressed.
Daily tasks that she had once completed without any problem began to become more difficult.
And, it became more and more challenging for her family and friends to help her do what she wanted, or needed, to do.
But Jaye did not need the acute type of care provided at a hospital, and nor was she ready to move into a continuing care facility.
Home care enabled her to continue living at home, with her husband and son, and close to family and friends, while still getting the care and support she needed.
"We could not have managed without AHS funding, and we understand how much this care has improved the quality of our lives as a family living with a life-changing disease," said Jaye.
Typically, if a family cannot provide support for their loved ones safely in the home setting, they are admitted to hospital or a care facility in order to receive the care they need.
In Jaye's case - and in many cases - all she needed was some extra support at home, in order to stay at home.
Home Care is an important part of the healthcare system, helping keep people out of hospital or facility when it is safe to do so.
Last year, AHS provided home care services to more than 118,000 Albertans, an increase of almost 10,000 clients in less than four years.
That is 10,000 people who are getting the care they need, in a home-like setting outside of a hospital and closer to family and loved ones. Many of them will be receiving that care in their own homes and communities.
While providing appropriate care is the driving force behind home care, it also makes financial sense – home care costs approximately $4,925 a year per client. An acute care bed costs an average of $1,500 per day (this excludes ambulatory and Emergency Department costs).
In the 2017-18 fiscal year, funding for home care and community care totaled $2 billion, which includes a recent injection of $200 million from the Alberta Government to continue to provide services in the home and community for Albertans who needs a little extra support.