Digestive Health
Strategic Clinical Network
The Digestive Health Strategic Clinical Network (DH SCN) is a collaborative team of health care professionals, researchers, administrators, patients, community organizations, and others committed to improving the care of patients with digestive diseases, liver diseases, and cancers of the digestive system across the lifespan.
We are working on the most effective ways to meet the healthcare needs of Albertans with digestive health concerns based on evidence and best practices within Alberta and around the world.
What's New
DH SCN launched November 18, 2016. Next steps are developing the Transformational Roadmap (TRM) which is a 3 year strategic plan to outline the digestive health goals, priorities, and key initiatives of the DH SCN.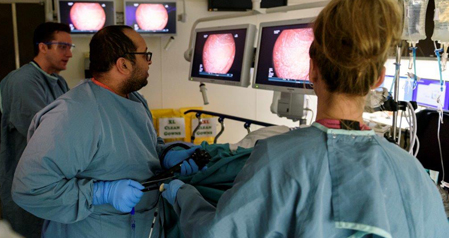 Vision: "The best digestive health for all Albertans."
Mission: "Innovate and collaborate to create a person-focused high quality digestive health system through prevention and best practices."
Quick Links
Contact
Email: digestivehealth.scn@ahs.ca
Getting Involved

Ideas and input of all stakeholders, including patients and families, are welcome:

To learn more, or become more involved, contact digestivehealth.scn@ahs.ca
Network Members

Network Leadership

Dr Sander Veldhuyzen Van Zanten

Senior Medical Director

Louise Morrin

Senior Provincial Director

Leanne Reeb

Executive Director

Dr Gil Kaplan

Scientific Director

Dr Susan Jelinski

Assistant Scientific Director

Jessica McLarty

Manager

Terry Baker

Senior Consultant

Membership

To see who is involved check out our core membership list
News, Updates

Articles
Projects, Priorities

Priorities

Projects

Docusate Delisting

Notice & Backgrounder

Resources / Tools
Related Resources

AHS & Partner Resources

External Resources
Research, Innovation

The DHSCN Scientific Office aims to lead Alberta Health Services in the promotion, adoption, and diffusion of innovation as well as the creation and use of evidence to drive decision making in digestive health.