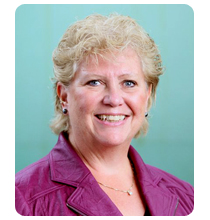 Brenda Huband is Calgary Zone Senior Vice-President for Alberta Health Services. She shares accountability for the Calgary Zone with Dr. Sid Viner, Zone Medical Director.
Responsible for overall health service delivery in Calgary and surrounding areas, Ms. Huband also has accountability for the Provincial Programs of Referral, Access, Advice, Placement, Information and Destination (RAAPID); Poison and Drug Information Services (PADIS); Southern Alberta Renal Program (SARP); Southern Alberta Institute of Urology; and health service delivery in Alberta provincial corrections facilities.
She is a proven progressive leader with extensive experience in the Alberta health system, including rural, regional and urban health settings, focusing on acute care, continuing care, aboriginal health, seniors' health, public health and administration.
Born and raised in Alberta, Ms. Huband graduated from the Royal Alexandra Hospital School of Nursing, subsequently earning a Bachelor of Science in Nursing (with distinction) at the University of Alberta and a Master of Science in Administration (Health Services) at the Central Michigan University. Ms. Huband also holds the designation of Certified Health Executive (CHE) with the Canadian College of Health Leaders.