Project improves recovery for surgery patients
Story by Tara Grindle; photo by Merle Prosofsky Photography
"Night and day" – that's how Mary Anne Prosofsky describes the difference in her recovery time between two recent surgeries.
She credits a quick recovery after the second surgery to changes made in her care as part of Alberta Health Services' Enhanced Recovery After Surgery (ERAS) project.
"I was surprised at how quickly I felt better after the second surgery," says the 59-year-old Edmonton woman. "I had more energy and was up moving sooner."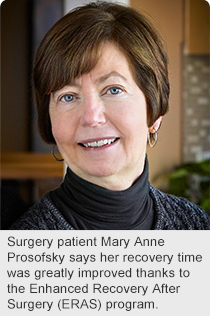 ERAS provides consistent ways of managing care before, during and after surgery with an aim of helping patients stay strong physically and mentally, improving recovery time and reducing complications.
What began as a pilot project for colorectal surgery at three sites in September 2013 has expanded to six sites. To date, the project has helped close to 1,000 colorectal surgery patients get back on their feet sooner by reducing fasting times, increasing the intake of carbohydrates and using medications that allow patients to move and eat soon after surgery.
Early data from the first two ERAS pilot sites shows the average length of stay for patients has decreased by three days. For the Peter Lougheed Centre in Calgary, which has seen the largest number of patients through ERAS, this means patients stay an average of 7.4 days in hospital compared to 10.4 before ERAS.
"We've noticed a significant change in patients' energy levels and their willingness to participate in their own care," says Miranda Klein, the ERAS program co-ordinator at the University of Alberta Hospital in Edmonton.
She supports patients such as Prosofsky through their surgery journey.
"We used to have to beg patients to get out of bed and constantly be explaining the benefits to being up and active," says Klein. "ERAS patients get all the teaching in advance so they understand the expectations."
The program encourages patients and their families to understand and take part in their care.
"Having someone like Miranda was an awesome resource for helping answer any questions," says Prosofsky. "The program lays out what to expect and, if you follow it, you will be prepared and feel confident.
"I didn't experience any nausea after the second surgery and I was in hospital three days less. Being able to get home sooner was a huge benefit."
The ERAS pilot project is led by the AHS' Diabetes, Obesity and Nutrition Strategic Clinical Network (SCN) along with the support of the Surgery SCN, which will be spreading the project to additional types of surgery and across more AHS facilities.