Recognizing asthma research
Recognizing asthma research
May 16, 2013
Story by Sara Boehnke
Your child's chest gets tight, he can't breathe and he starts to wheeze. It's an asthma attack, and it's scary.
Working to help children with asthma is the Asthma Working Group, the recipient of this year's President's Excellence Award for Outstanding Achievements in Research.
"The team's work is of great value to Albertans," says Dr. Eagle, President & CEO. "The impressive scope and quality of the Asthma Working Group's efforts clearly demonstrate the immense value of research in delivering high quality, evidence-informed health care to all Albertans."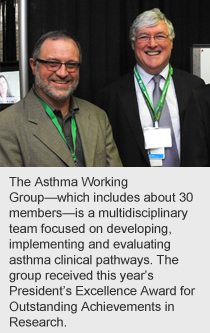 The Asthma Working Group is a multidisciplinary, provincial group within the Respiratory Clinical Network. The focus is developing, implementing and evaluating asthma clinical pathways. These clinical pathways guide clinicians in assessing and treating pediatric asthma, resulting in standardized, evidence-based care and better outcomes for pediatric patients and their families.
"It's a great honour for our team," says Dr. David W. Johnson, Asthma Working Group co-chair, Section of Pediatric Emergency Medicine, and professor with the Departments of Pediatrics and Pharmacology & Physiology, University of Calgary, Faculty of Medicine. "AHS's emphasis on Strategic Clinical Networks has allowed us to improve care and make a difference on this scale."
"The process brought together front-line clinical staff, subspecialty care providers, researchers and administrators," says team member Dr. Carina Majaesic, Divisional Director of the Pediatric Respiratory Medicine at the Stollery Children's Hospital. "I'm amazed at the willingness of all participants to bring their expertise to the table and collaborate to improve patient outcomes."
The new pathways provide evidence-based treatment plans to emergency department/urgent care centre and inpatient clinicians; ensure family physicians are informed; and offer educational materials to families to aid in self-management.
"For many years, asthma treatment for Albertan children varied from site to site and with little structure as to who could provide the care and what that care should look like," says Majaesic. "The pathway changed that."
The team also developed online learning tools for health professionals across the province. Since the learning modules launched less than a year ago, nearly 300 AHS health care professionals have passed one or both asthma courses. These individuals are spread across 22 different facilities in all five zones.
Asthma clinical pathways are currently established in rural and urban sites in the South Zone and Calgary Zone. Over the next 18 months, the team's goal is to expand the pathways to the remainder of the province.
"Sharing the pathways across Alberta will ensure that children receive the best asthma care possible, no matter where they are in the province," says Johnson.
The President's Excellence Awards recognize Alberta Health Services staff, physicians with privileges and teams who demonstrate innovation, collaboration and patient focus, and who exemplify the AHS values of respect, accountability, transparency, engagement, safety, learning and performance.